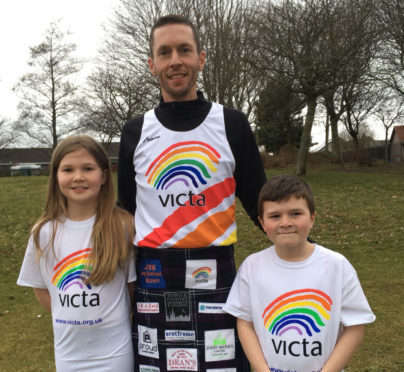 A north-east runner will push himself to the limit at one of the world's most prestigious sporting events next month.
Martin Reid, from Inverurie, has entered the London Marathon with the aim of raising thousands of pounds for Victa, a charity which helps support children who are blind or visually-impaired.
The 39-year-old, who runs an industrial supplies business with his father, has been running since his mid-30s, but he believes this will be the toughest challenge he has undertaken.
Not only will he have to overcome the physical strain of the 26-plus miles, he will be attempting to do so while he is wearing a kilt.
As part of his fundraising drive, he has enlisted the help of a number of local companies who have sponsored him, and will have their names emblazoned on the kilt – an idea inspired by Formula One cars.
The father of two said: "I have got a couple of friends that have been affected with their son.
"Their dad ran for Victa a couple of years ago and I decided that I would do the same.
"I run for Jog Scotland Kintore and mostly I've been doing 5 or 10ks, so this is the first ever marathon I've done.
"I've been trying to get into the London Marathon for a few years, it is quite a difficult process because you have a general ballot, but it is a really popular event which is why I decided to run for Victa.
"I have already raised nearly £2,000, so if I can top that, I will be very pleased."
With the event just weeks away, Mr Reid has been pounding the pavements in preparation for the challenge.
He said: "The training has been going okay actually, apart from the weather, it's just about trying to get out in the mornings or after work.
"Normally, I will try and get out about four or five times a week in the evenings after work, and this week I managed 20 miles, so I have been taking it slightly easier as it gets closer to the event.
"After this week, it is just going to be about tapering off and looking after the legs until the race day.
"Because I run with Jog Scotland, I have been able to go out with a few other people who are going to London, but I have also been going out by myself out and around the town.
"I am not really worried about a time, but to get three hours I would be really pleased. I will be wearing a kilt which is just a disadvantage.
"I ran a 10k in a kilt a few years ago, but obviously this is going to be completely different."
To donate to Mr Reid's fundraiser visit https://uk.virginmoneygiving.com