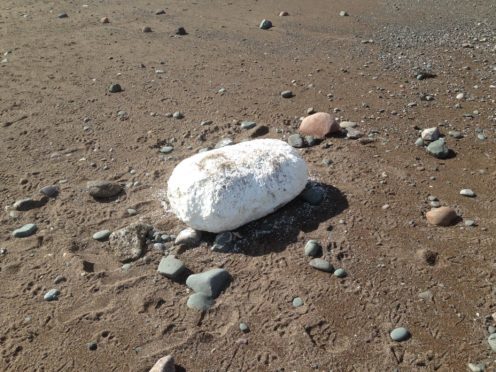 The recent storms which hit the UK have dislodged unusual mementos from the resting place of a World War II shipwreck.
Wartime lard has re-appeared on the Mearns coastline after escaping from the MS Taurus – which was bombed and sunk by the Luftwaffe, as reported in The Courier.
A number of white blocks of animal fat – still with their barrel shape but the wood long gone – appeared on the beach at Gourdon from the sunken wreck of the Norwegian merchant ship which was attacked in 1941.
The wreck of the Taurus ship, known locally as the Rosebury, is thought to lie further up the coast near Johnshaven, with bad weather setting free its contents over the years.
It comes as a local vet warned dog walkers to be wary of a "rancid" substance, believed to be palm oil, which has washed up along the Angus and Mearns coast.
The appearance of the lard, originally destined to be used in lipsticks and soap, has triggered memories of earlier deposits of the fat at the beach.
Joann Beattie from Johnshaven said: "My mum told me about the barrels washing in in 1941 and of the villagers going down the beach and helping themselves.
"There used to be lots of things washed up between here and Gourdon. I have a brass incense burner that washed ashore from the Balmoral."
For more on this story, click here.