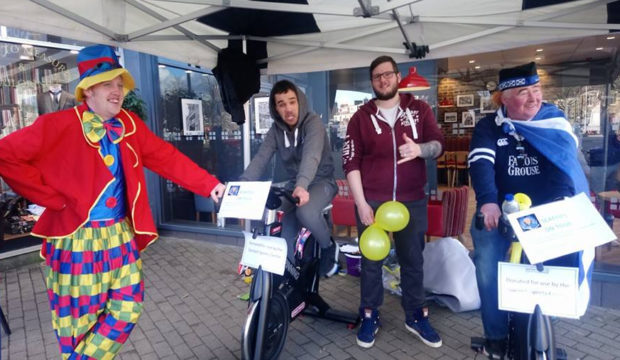 A team of refuse collectors from Aberdeenshire will be the first group from Scotland to take part in a nationwide rubbish-collecting challenge this summer.
The squad from the Souterford Road depot in Inverurie will be heading to Weston-super-Mare in Somerset in June for the National Refuse Championships 2018.
The annual event is organised as a reward and acknowledgement for the hard work and commitment that bin collection workers provide throughout the year, and creates an opportunity for groups to raise money for important causes.
The Inverurie team has been raising cash to attend the event over the past few months, and hope to use the championship to raise funds for local causes such as Clan, Willows Animal Sanctuary, the Inverurie Food Bank, the Doddie Weir Foundation and the Friends of the Special Nursery at Aberdeen's neonatal unit.
The all-day competition features refuse workers from all across the UK, and will pit teams against a number of tough challenges.
In one of the tasks, each team of five people – including one driver – will have to fill wheelie bins full of sand and push them to an awaiting bin lorry.
Teams will be challenged to empty as many bins of sand as possible as their lorry moves further and further away each time, making every journey longer and harder.
Gemma Rosie, a member of the Inverurie team, said: "Ours is the first Scottish team to enter this event, so we are very proud to be representing not just Aberdeenshire Council but all waste sector workers across Scotland.
"We have a lot of organising and hard work ahead, but are hopeful of getting the support of both the residents and businesses of Aberdeenshire.
"As we've been going about our daily routines we have been speaking to customers, businesses, householders and anyone we can to tell them what we're up to, and a number have already offered support."
The group has been taking on a number of challenges to raise funds for their trip south for the championships, including an exercise bike marathon over two days in Inverurie, a sponsored car wash, and a sponsored walk up Bennachie.
The team are also planning on sponsored bag packing at the Morrisons supermarket in Inverurie on May 10 and 11 from 6pm to 9pm, and are planning a disco on May 18 at the Edwards Nightclub in Inverurie from 7pm.
An online fundraiser has also been launched by the group.
To find out more and help their cause, visit www.justgiving.com and search for "Scaffies".