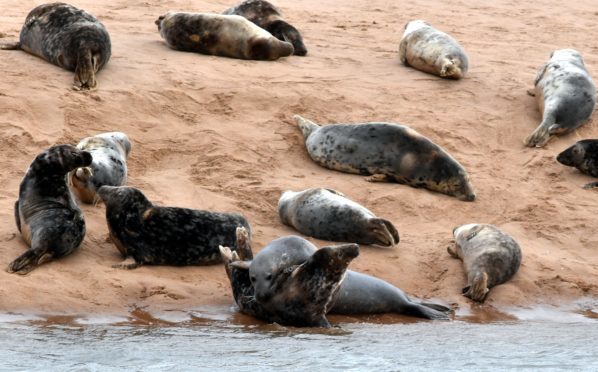 Drones flying over Newburgh Beach could be causing deadly problems for a colony of seals resting on the sand.
Conservationists have reported a rising number of "serious" incidents where the marine mammals have been disturbed at the Ythan Estuary on Forvie National Nature Reserve.
Scaring seals is a criminal offence because it can often lead to them stampeding and becoming injured.
Lee Watson, who founded Ythan Seal Watch four years ago, said: "Seals are warm-blooded mammals, so they can suffer shock if they are quickly forced into the water.
"As the weather has been so bad we aren't finding many pups on the beach just now, but in the past they have been abandoned by their mums or crushed in a stampede."
Volunteers from the group regularly have to warn drone users of the risks involved when using the equipment, with one incident involving seals being disturbed at the spot on Sunday.
Mr Watson said: "We are getting pilots coming down to use recreational drones.
"They have no training and a lot of them are learning to fly them on the beach, unaware that they have to follow a drone code.
"It's a genuine safety issue for everyone on the beach.
"There was a drone video where a rotor blade failed and it tumbled down to the beach – anyone could have been walking under it at the time.
"There is a big difference between commercial, licensed pilots and someone who has just bought a drone from a shop for £300."
As the technology becomes more affordable, Mr Watson has noticed a rise in the number of people flying drones while also wearing virtual reality headsets.
"Some are wearing full headsets so they aren't aware of what's round them," he said.
Mr Watson urged drone operators to find another spot away from the nature reserve to fly their machines.
He added: "There's a really nice coastline which is safe to fly drones at without causing problems for everyone else.
"But the seals are the main attraction and it's hard for people to find a safe place."
Annabel Drysdale, Forvie reserve manager, said: "We remind visitors to take care not to disturb the animals and keep their distance.
"There should be no need to get close as cameras are able to get excellent pictures from a considerable distance away.
"If we work together to ensure seals aren't disturbed, they are more likely to return to the beach for many years to come."