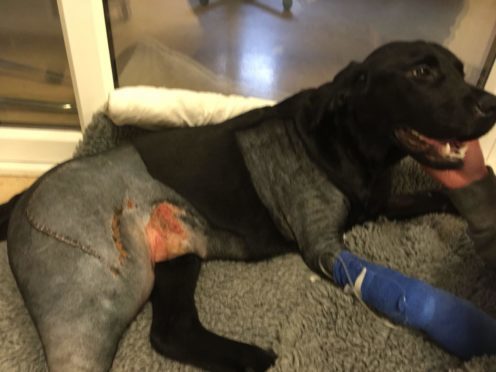 A couple preparing to tie the knot this summer have revealed their beloved dog will be their "guest of honour" – after he survived a horrific accident.
Eight-month-old black Labrador Baxter was mowed down in a hit and run in Strachan, near Banchory, in October.
Owners Paul Montgomery and April Neish raced the pooch to the vet in Banchory, and from there he was transferred to Parkside Vets in Dundee for specialist treatment.
The vet there admitted Baxter was one of the "most smashed-up dogs" he had ever seen.
He suffered three badly broken legs, multiple pelvis fractures and skin torn off one of his paws.
But the dog has now made a full recovery after months of treatment, rehabilitation and check-ups.
Mr Ashworth, an advanced practitioner in small animal orthopaedics, said: "Baxter was certainly a poorly soul.
"He had multiple injuries including a broken pelvis on both sides, femur fractured in three places and a dislocated elbow.
"Three out of his four legs were badly broken but because he's such a young dog and really nice-natured, he was a good patient and managed to recover."
Mr Montgomery and Miss Neish had considered putting off their wedding if the vet's fees proved too costly, but have happily confirmed it is going ahead as planned.
Miss Neish said: "We just had to make a few changes.
"But at the end of the day, we would have spent any amount of money to get Baxter back on his feet. He'll definitely be the guest of honour on the day."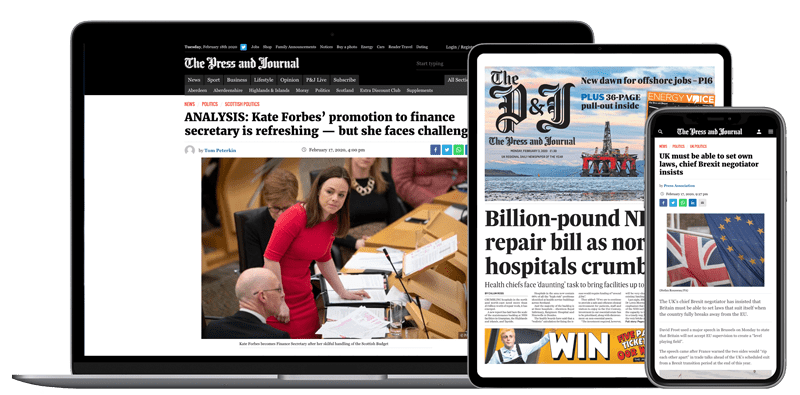 Help support quality local journalism … become a digital subscriber to The Press and Journal
For as little as £5.99 a month you can access all of our content, including Premium articles.
Subscribe