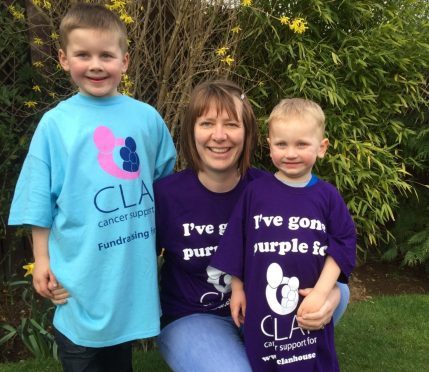 An Aberdeenshire mum-of-two is hoping to generate thousands of pounds for a charity which helped her through a cancer diagnosis.
Alison Brown held the first Purple Walk in her hometown of Kemnay in 2016, when nearly 400 participants raised £25,000 for Clan Cancer Support.
The 37-year-old has now planned a return for the 10K event this September.
She said: "The first walk was much bigger and more successful than I could have ever thought.
"It was unbelievable and better than I expected.
"We had around 390 people doing the walk and a lot have been asking if there was going to be another.
"I'm well enough to organise another one now and I'm hoping for a similar outcome."
Mrs Brown organised the inaugural Purple Walk after receiving support from Clan's base in Inverurie, which she visited weekly after being diagnosed with breast cancer in 2015.
She also made use of the Aberdeen centre after facing a second diagnosis in 2017, and wants to raise even more money for the organisation.
The charity offers support to those with cancer, and their family and friends, at 13 locations across the north-east. Moray, Orkney and Shetland.
"They have helped me out massively," Mrs Brown said.
"Clan is a very local charity so I think a lot of people are keen to give back to them because they can see it being used by people they know. It's a very special thing for them.
More than 300 people have signed up to take part in the walk already with businesses including Lawrence of Kemnay, Bennachie Lodge Hotel and A&G Collie Family Butcher also pledging support.
Steph McCann, Clan Cancer Support fundraising team manager, said: "We're delighted to support Alison with this year's Purple Walk around Kemnay which will, I'm sure, attract significant numbers from the local community, and from others around the north-east.
"The event was very successful when it was first held in 2016, attracting nearly 400 participants and fantastic support from local businesses, individuals and groups who helped to raise more than £25,000 for CLAN by walking 10k.
"Community fundraising events such as the Purple Walk are very important and help us to continue to provide free support services to anyone affected by a cancer diagnosis across the north-east of Scotland, Orkney and Shetland."
To register for a place in the event on September 30 visit thepurplewalk.co.uk