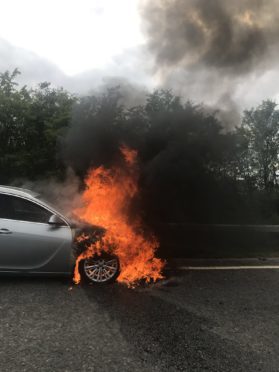 A stretch of the north-east's busiest road may need repairs after a car caught fire and its molten wreckage scorched the surface of the carriageway.
A silver Vauxhall Astra erupted in flame on the A96 Aberdeen to Inverness road at about 4.30pm, at the Broomhill roundabout near Kintore.
All lanes along the trunk route were sealed off for a stretch in both directions as emergency services made their way to the scene.
The drama caused delays for scores of rush hour commuters as traffic was brought to a standstill for more than an hour.
A police spokesman explained that some of the debris had "burned into the road itself".
A patch of damaged surface was left behind after the burned out car was towed away and engineers arrived to survey the extent of the destruction.
Experts from Bear Scotland, which operates the country's trunk roads, last night confirmed that another engineer will return this morning to decide if repairs are needed.
A spokeswoman said: "Our response team was on site and undertook an initial clean-up of the incident so that the road could reopen.
"There has been some fire damage to the road and an engineer will visit the site to assess if any remedial works are required."
The car was travelling along the northbound carriageway at the time and it is understood that the driver pulled over when the fire had only just taken hold after being alerted by a fellow motorist.
The driver was able to leave the Vauxhall before it was engulfed in flame and suffered no injuries.
A spokeswoman for the fire service added that crews from Inverurie attended to extinguish the flames and had got the situation under control using one hose and one set of breathing apparatus by 4.50pm.
Bus company Stagecoach advised customers that its number 10 Service between Inverurie and Elgin had been delayed by the incident and apologised for any inconvenience.
By about 5.40pm the road was partially reopened in both directions and queues of traffic which had backed up were able to gradually pass the scene.
The road was clear again by about 7pm.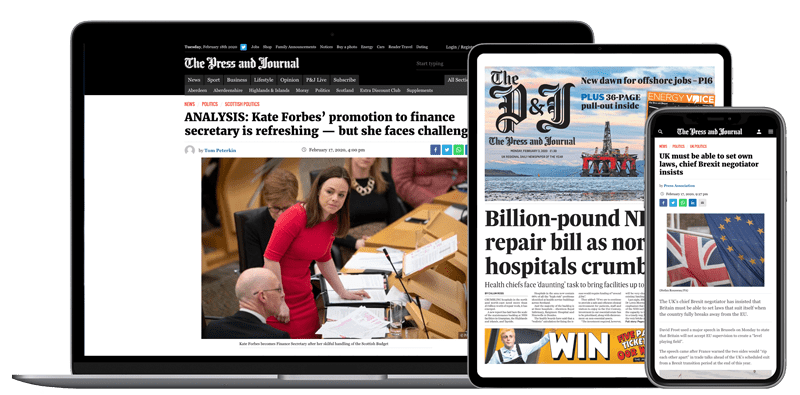 Help support quality local journalism … become a digital subscriber to The Press and Journal
For as little as £5.99 a month you can access all of our content, including Premium articles.
Subscribe