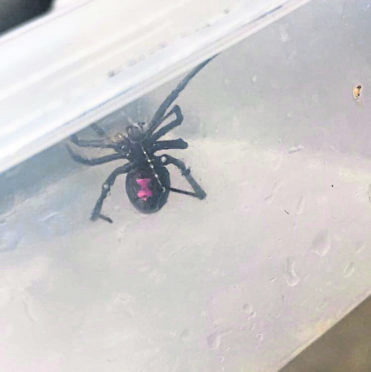 Shocked workers at an Aberdeenshire firm discovered an unwelcome visitor in a shipment from the US yesterday – a deadly black widow spider.
The spider was spotted by employees at an unnamed firm based in Portlethen, who contacted the Scottish SPCA to rescue the dangerous arachnid.
The not so incy wincy spider, characterised by the species' distinctive red hour-glass markings, was placed in a container until the SSPCA came to collect it.
Last night Scottish SPCA Animal rescue officer Michelle Mann said: "We can confirm we were alerted to a suspected black widow this morning after it was found in a crate from America.
"The spider is currently at our centre in Aberdeen and we are awaiting formal identification."
Today, the spider was put down after being positively identified.
Female black widows sometimes kill and eat males after mating – giving the arachnid its name.
This spider's bite is much feared because its venom is reported to be 15 times stronger than a rattlesnake's.
In humans, bites produce muscle aches, nausea, and a paralysis of the diaphragm that can make breathing difficult; however, contrary to popular belief, most people who are bitten suffer no serious damage – let alone death.
However, bites can be fatal for small children, the elderly, or the infirm. Fortunately, fatalities are fairly rare; the spiders are non-aggressive and bite only in self-defence.
Another Black Widow spider was found in similar circumstances in 2013 at Innospection Ltd's yard in Dyce, as workers unpacked a crate of metal materials shipped from the Gulf of Mexico.
The spider was later rehomed by Nick Martin who has an exotic animal rescue charity in Inverness.