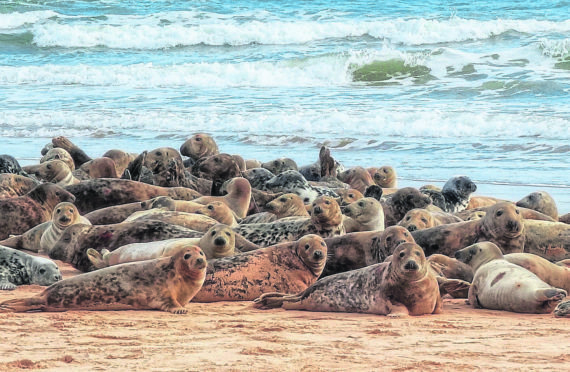 A dog walker has hit out at seal conservationists who claimed he and his friend caused a stampede at an Aberdeenshire nature reserve after police officers decided no crime had been committed.
The Ythan Seal Watch group had alleged that a pair of dog walkers had disturbed the seals on the north side of the river mouth and caused them to panic at the legally-protected beach. Footage of the incident at Forvie Nature Reserve, was handed over to the police to investigate.
However, wildlife crime officer Doug Darling said: "The circumstances have been reviewed, and we are content that there was no criminality on this occasion."
Although a number of signs are in place urging visitors to steer clear of the site where up to a thousand seals can be basking on the sands at one time, the dog walkers filmed by the Ythan Seal Watch organisation argued they do not clearly communicate exactly where visitors can go.
One of the dog walkers, who did not wish to be identified for fear of being targeted online, said: "There was nothing to prevent unhindered access to the beach.
"We saw no barriers, of any description. There was one very weather-beaten log standing erect in the sand.
"This may have been part of a fence many, many years ago, but it's certainly not a fence any longer.
"Attached to this log was one sign. We read it, so yes we were aware there may be seals, but the sign does not say we can't walk on that beach and with the lack of barriers we assumed it was advisory.
"Based on what the sign actually says, I believe we followed all the directions it gave.
"If it was my friend and I who caused the seals to stampede, then of course this was not our intent and is something we apologise for.
"However, the result of this should be a clear focus on the fact that the signage is ambiguous and the barriers are non-existent, or at least they were when we visited."
A statement from Ythan Seal Watch said: "Every weekend the seals are accessible, visitors to the Forvie reserve continue to ignore very simple instructions to protect a very significant and important site for the grey seal in the UK, and ruin the experience for the majority who views the seals responsible from Newburgh beach.
"Every weekend we will be there to film and publish online the visitors to Forvie who continue to do this."