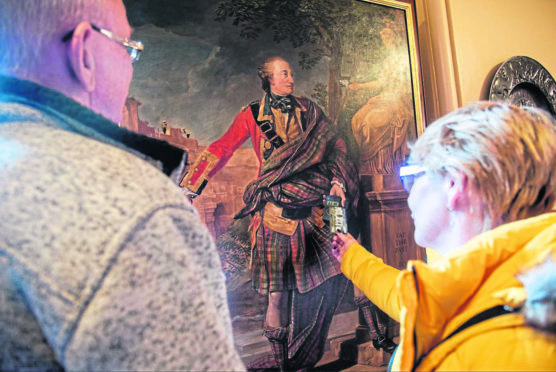 Robert Burns once composed a poem on the back of a Bank of Scotland note.
And Colonel William Gordon of Fyvie was famous for putting himself on half-pay of guineas and florins after his regiments were disbanded.
However, the days of dealing in coins and notes has moved on since the 18th century to the stage where many people believe hard currency doesn't have a Holy Willie's Prayer.
---
>> Keep up to date with the latest news with The P&J newsletter
---
And that explains why Burns and Gordon are now at the forefront of a "crucial" new scheme whereby supporters of the National Trust of Scotland will be able to make contactless donations to the charity.
NTS officials confirmed yesterday that lovingly-executed recreations of two unique Scottish artefacts have been unveiled at Robert Burns Birthplace Museum in Alloway and Fyvie Castle in Aberdeenshire.
Both will act as contactless donation points and allow the public to contribute to the charity directly at the sites.
The items comprise of a bust of Burns within his Ayrshire cottage and a painting of Gordon while he was engaged on a Grand Tour of Italy as a swaggering Scotsman with a kilt transformed into a toga.
The organisation hopes that the 'Tap the Past to Preserve the Future' initiative will raise vital funds to support its work protecting Scotland's heritage.
But it acknowledged the scheme was being unveiled at a time when the volume of traditional cash donations is falling, with the use of notes and coins dropping by 15% last year alone.
The Burns bust was formed using the latest in 3D scanning technology to capture every detail of the original. The makers worked closely with the trust's property and curatorial staff to create high-quality replicas.
These are almost identical to the original pieces, but with a contactless card reader integrated. Visitors will have the opportunity to tap the contactless logo on both objects to donate a fixed amount of £2.
Simon Skinner, chief executive of the NTS, said: "Like all charities, we face a significant fundraising challenge as cash donations have fallen sharply in recent years.
"This initiative could not come at a more crucial time and will enable us to accept contactless donations at our sites for the first time.
"It's only through the support of our visitors, members and donors that our charity can help to protect Scotland's natural and national treasures for everyone to enjoy.
"Working closely with Bank of Scotland and Visa to install these contactless artefacts means even more people can help support what we do."