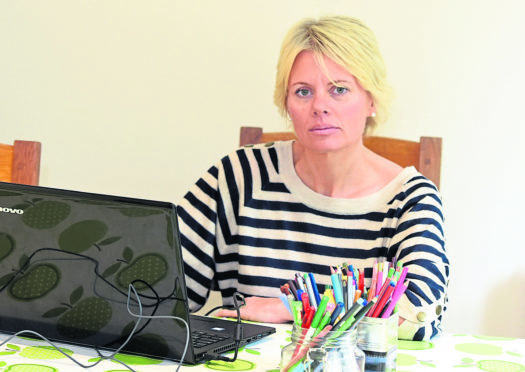 An Aberdeenshire mum left horrified when her eight-year-old son was offered Prozac has called for primary school teachers to be given mental health training.
Sharon McCann says her son has been showing signs of anxiety from a young age, with group therapy sessions failing to have any effect on his wellbeing.
And she said she was "shocked and saddened" earlier this year when a psychiatrist said there was "nothing more he could do" other than to offer a prescription for anti-depressants.
She felt the suggestion was "not appropriate" due to her son's age, and the incident compelled her to campaign for better mental health treatment for children.
Mrs McCann, from Banchory,said: "We were horrrified at that, we thought there must be far more options to help him.
"For me this felt a pivotal moment as I realised the importance and urgency of providing earlier mental health intervention.
"I believe the answer is in our primary schools, which are really struggling to know how to support children with problems like this as they don't have the resources or specialists.
"By the time children reach secondary school, their problems could have become much worse if they have not been picked up on."
Mrs McCann says her son's condition can make him reluctant to attend school, causes low self-esteem and limits his ability to mix with others.
He is now receiving one-to-one sessions with a psychiatrist and Mrs McCann has led a "mental health first aid training" project at Hill of Banchory Primary School – which she is keen to have enacted elsewhere.
---
>> Keep up to date with the latest news with The P&J newsletter
---
She added: "Anxiety, and other mental health problems, can have a huge impact on children's lives and learning.
"This is sensitive and personal but I want my voice to be heard for my son, and others like him"
And yesterday, Mrs McCann backed a nationwide campaign to improve mental health care in schools.
Today marks World Mental Health Day and the launch of the Make It Count initiative by the Mental Health Foundation Scotland.
The organisation has issued a five-point list of demands it wants the Scottish Government to implement, including offering extra training for teachers and more emotional education for youngsters.
It comes as new figures reveal that a quarter of Scottish parents say academic pressure is making their children stressed.
Toni Giugliano, policy manager at the Mental Health Foundation Scotland, said: "It's unacceptable that teachers are still not trained in mental health in Scotland.
"School staff desperately want the training to explore the 'real life issues' that create distress – be it body image, relationship worries, exam stress or how to handle difficult conversations on social media."
Dr Lynne Taylor, clinical director of the Child and Adolescent Mental Health Service, said: "The CAMHS service in Grampian is committed to providing high quality care for children and young people who access the service.
"We welcome any feedback from families who feel the care they have received has not met their expectations.
"The service is also aware of the rise in poor mental well being, and increased mental health conditions presenting in school aged children.
"This is a national issue causing pressure on all services, including CAMHS, and the service welcomes the Make it Count campaign."
The Mental Health Foundation Scotland is calling for the Scottish Government to implement five new policies by 2020.
This would involve training all teachers in mental health and adolescent brain development.
All schools would need to measure wellbeing levels with a student questionnaire every term.
It is claimed that pupils should be given at least one hour of personal and social education each week, with at least half of the classes dedicated to emotional resilience and tackling the causes of mental illness.
Every school should adopt a peer-led mental health programme to break down stigma and help youngsters support one another under the plans.
And there would be mental health workers embedded in every school.