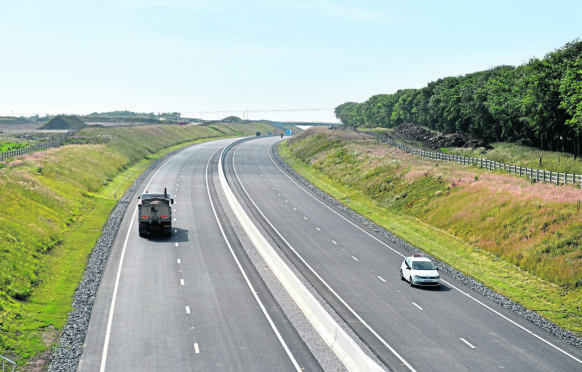 Transport chiefs have confirmed a controversial tractor ban will remain in place on the AWPR.
Furious farmers called on Transport Scotland to overturn the order which would prevent traffic using the new £750million scheme.
There is a special designation which limits the distance that farm traffic can travel, effectively prohibiting agricultural vehicles from travelling on it.
And while this was agreed in the planning stages of the 28 mile road a number of years again many farmers were unaware they were not able to use the route.
Union bosses and politicians had called on the ban to be overturned and even urged First Minister Nicola Sturgeon to get involved.
However Transport Scotland has been steadfast in its position and has now confirmed the ban will not be changed.
Peter Chapman, north-east MSP, said: "This outcome comes as no surprise, given the way in which this SNP government treats the farming community.
"Farmers and landowners have borne the brunt of disruption during construction of the AWPR.
"It is a cruel irony that they won't be allowed to use the road once it is completed."
Among the concerns raised by the farming community was that the bypass appeared to be given the same restrictions as a motorway when it has been designed as a dual carriageway similar to the A90 Aberdeen to Dundee road.
It was also argued that this would mean farmers using tractors to tow livestock would from north of the city to the slaughterhouse at Portlethen would be forced into using larger haulage trucks or into taking their vehicles through Aberdeen.
Mr Chapman added: "My position has not changed. This is a dual carriageway – like many others around the country that agricultural vehicles use regularly, safely and without hindrance to other traffic.
"I can see no good reason why a ban should apply to this section of road, but not other parts of the A90."
A Transport Scotland spokesman said:  "The statutory orders for AWPR were made in 2010.  At that time, it was promoted as a special road and that is what will be delivered.  One of the key purposes of a special road is to provide a route for strategic traffic, thereby freeing up the existing road network to significantly improve local access and journey times for the local community.
"Certain rules govern whether roads of this nature are suitable for tractors.  In this case, tractors must be travelling less than 1.5km between two pieces of (farm) land in common ownership.  There are no junctions on the AWPR which meet this requirement.
"When the AWPR is opened to traffic, strategic traffic will switch from using the existing road network onto the new AWPR. It is estimated that this will cut the journey across Aberdeen by up to half at peak periods and will also provide safer local access for the farming community on local roads.
"This will be a significant benefit to drivers of agricultural vehicles."
Lorna Paterson, north-east regional manager for NFU Scotland, said she was "highly disappointed" by the decision.
She added: "The fact that tractors will have to go through the city will cause more of a problem for road users than if they were allowed on the bypass.
"It's easy to overtake on a dual carriageway, so there's no backlog with cars stuck behind them.
"Nevertheless, they have called it a special road and they have got to implement the rules that go along with that."
She added: "I hope the council in the future doesn't start adding traffic calming measures in the city, like narrowing the road, as a result of this.
"That would make life impossible for drivers of long or wide agricultural vehicles."
AWPR opening date to be revealed 
Transport Secretary Michael Matheson is gearing up to make an announcement regarding the progress of the bypass in Holyrood next week.
It is thought this will address a number of issues about the AWPR which have been flagged up in recent weeks, including his call yesterday to scrap the previously-laid plans for opening the road.
In addition, it is hoped that a date for when motorists can use the £745m dual carriageway will be revealed.
Rather than wait for everything to be completed and opened at the same time, Mr Matheson has insisted that the portions of road ready to go – such as the main 19.6-mile stretch between Craibstone to Stonehaven – are made accessible "as soon as possible".
But he added that, with remedial work ongoing at the new crossing over the River Don, construction consortium Aberdeen Roads Limited has been "unable to estimate a precise opening date".
Mr Matheson said: "Transport Scotland is working closely with the contractor to open sections of the road as soon as it is safe to do so.
"In particular, I have instructed Transport Scotland to investigate the potential to open the 31.5km section of new road from Craibstone to Stonehaven and Charleston as soon as possible, while remedial work at the Don progresses.
"Discussions have taken place with ARL and they are currently progressing this matter through the necessary governance channels within their organisations.
"It is right and important that ARL considers this matter carefully; but we are urging them to conclude their deliberations swiftly so the people of the north-east can start to benefit from the new road as soon as possible."
A Transport Scotland spokesman said: "A proposal is still being discussed within their organisations.
"This is a commercial matter for the contractor, but we continue to work closely with them to allow the people of the north east to enjoy the benefits of the new road as soon as possible.
"The Cabinet Secretary will provide a full update next week."