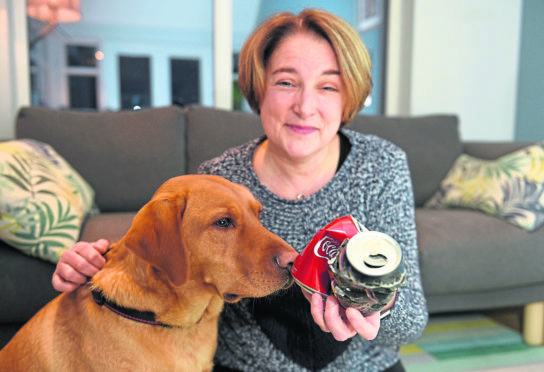 An Aberdeenshire primary school teacher is behind a growing and worldwide network of dog owners doing their bit to look after the environment.
Marion Montgomery  launched Paws on Plastic in an effort to tackle the increasing amount of plastic pollution that blights coastal towns.
Her campaign encourages dog walkers to pick up at least two items of rubbish every time they take their dog out for a walk, using a spare poo bag or carrier bag.
The Gourdon Primary School teacher came up with the idea after numerous walks with her dog Murphy, who died in 2015.
He would often come across waste items and bring them to her, leaving Ms Montgomery with the choice of leaving the rubbish behind or disposing of it properly.
She took the decision to pick up and dispose of the items – discarded plastic bottles in particular – before launching Paws on Plastic to tackle it on a larger scale.
It is now a Labrador by the name of Paddy that joins her on her walks and she hopes the idea will inspire many others to make the same choice.
Paws on Plastic already boasts 200 members in and around Stonehaven and an additional 1,600 others across the globe.
Ms Montgomery said: "It really seems to have caught on.
"We have nearly 200 members in Stonehaven now who are definitely making an impact in the town.
"It's just fantastic the way the message is spreading.
"Even if people are just picking up a couple of bits, it does add up and does make a difference.
"Of course, it's not going to solve the plastic pollution crisis but hopefully it will make people think.
"If the streets are cleaner then people are less likely to drop litter."
Using the hashtag #PawsonPlastic, dog walkers can share their "hauls" of rubbish and encourage each other to collect more.
Environmental campaigners commended the initiative but said more must be done to cut out unnecessary plastic.
Calum Duncan, head of Conservation Scotland for the Marine Conservation Society, said: "Any initiative to remove the plastic from our beaches and seas is to be welcomed.
"However, while we must keep doing all we can to clear up the plastic waste already washing up, this is only a symptom of the wider problem of over-consumption.
"There is still a long, long way to go until the cause of leakage of plastics into the sea is stopped."
He added: "Plastic pollution is a major problem globally. Estimates suggest up to 12 million tonnes of synthetic material ends up in oceans every year.
"It takes hundreds of years to break down and causes significant harm to wildlife."
To join the group, search for Paws on Plastic on Facebook.