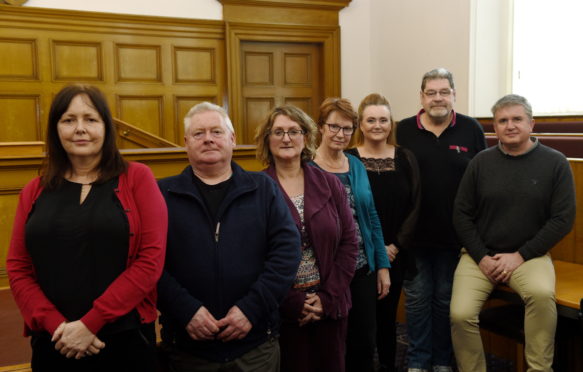 A north-east charity has found a permanent home after it was forced to relocate.
Pillar Kincardine, which supports people with mental health issues, was left without a home after its tenancy ran out on its former base on Barclay Street in Stonehaven.
Run entirely by volunteers, the charity was faced with the challenge of trying to find a new office among the limited spaces in the town.
But this week the organisation was celebrating after it opened up its new base in the former sheriff court building.
The facility was closed in 2014 and was left empty until the Stonehaven Town Partnership managed to secure the building through a community asset transfer.
Now Pillar has opened its doors in what was once a witness room when the court was still in operation.
The charity had the help of the town partnership and the local Mens Shed group to redecorate and spruce up its surroundings.
Moira Hurry, service manager at the charity for almost four years, said the move has given the organisation a boost.
She said: "It wasn't easy to find somewhere in Stonehaven but luckily the town partnership got in touch and offered us a space in the court building.
"We're pleased that we are part of the community hub because we think it will be a terrific service for a lot of people.
"Organisations like the Citizen's Advice Bureau will be based there so it will be a useful link for us."
Last year Pillar helped more than 60 people with various mental health issues, as well as various community outreach programmes.
The charity does not receive any long-term funding and relies on donations and short-term grants to keep going.
Pillar has been helping people in Stonehaven and the wider area for more than 30 years.
In 2017 its future was thrown into doubt following a shake-up of provision across the area by Aberdeenshire Council, when it was replaced by the Scottish Association for Mental Health in January 2017.