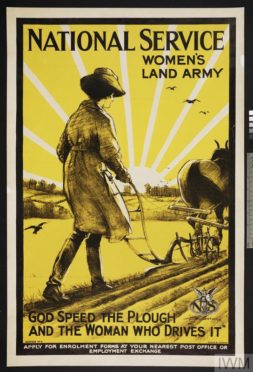 The Women's Land Army was re-established in June 1939, under the command of the Ministry of Agriculture and Fisheries and given an honorary head, Lady Denman.
As a former chairwoman of the Women's Institute sub-committee of the Agricultural Organisation Society, she had plenty of experience in both agriculture and meeting the needs of a wartime economy.
At the start of the conflict, Lady Denman initially asked for volunteers, but when those were slow in coming forward she was advised by the Ministry of Agriculture and Food that conscription would be required in order to fulfil food production quotas.
The Ministry of Supply appointed local coordinators to take charge of recruitment and training and one such official, a Mrs Cook of Ballater, advised that the daughters of gamekeepers and smallholders would make ideal candidates.
As the person in charge of recruitment for the Alford and Deeside areas, Mrs Cook was quoted in the Press and Journal of the time as saying: "Farmers now realise how well these girls have done in tackling general farm work when it was needed."
She doubted whether the demand for such labour could be met, given the often conflicting priorities of the wartime economy, but her recruits rose to the challenge in magnificent fashion to prevent Britain from starving.
By the middle of 1944, the Women's Land Army had over 80,000 members nationwide, whose work was supplemented by Italian and German prisoners of war.
Timeline
January 1917: The Women's Land Army was first formed to increase the amount of food grown in Britain, due to difficulties importing during the First World War.
1919: Women's Land Army disbanded.
June 1939: Women's Land Army re-established. Recruitment begins in earnest.
Working horses outnumbered tractors by 30 to one on British farms.
September 1939: Second World War begins.
By the outbreak of war, 17,000 women had enrolled in the WLA.
At the start of the war, two thirds of Britain's food was imported.
January 1940: Food rationing begins in Britain.
December 1940: By the end of 1940, Britain had lost over 2,000,000 gross tons of merchant shipping during the Battle of the Atlantic.
1942: The Women's Timber Corps was formed. Working in forestry, the corps had over 6,000 members, who were commonly known as Lumber Jills.
1943: The Land Girls were producing around 70 per cent of Britain's food.
1944: More than 80,000 women were working in the Land Army.
8 May 1945: VE Day – end of war in Europe.
By the end of the war, there were still over half a million farm horses in Britain.
July 1945: Minister of Agriculture states that the organisation will be needed 'at least until the harvest of 1948'.
8 June 1946: Land Girls march in the Victory Parade in London.
November 1950: Women's Land Army disbanded.
July 2008: Surviving Land Girls receive a badge of honour in a ceremony at Downing Street.