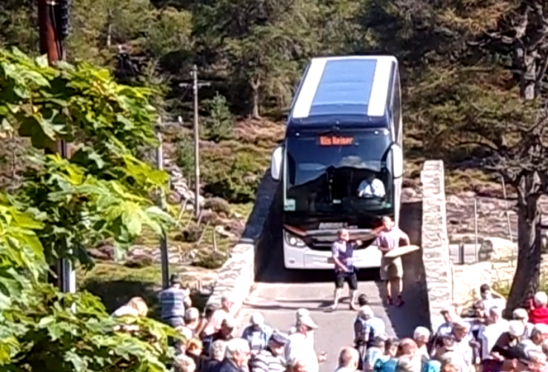 A Danish bus company has apologised after footage emerged of its staff using planks to manoeuvre a coach over an Aberdeenshire bridge where extremely heavy vehicles are prohibited.
The Riis Rejser coach was spotted crossing the 18th-century Gairnshiel Bridge, a key part of the A939 Ballater to Tomintoul road, last week.
Passengers were asked to exit the vehicle, while the driver used pieces of wood to navigate it across the steep, narrow crossing.
New signs have been recently been put in place forbidding anyone with a vehicle over the weight limit of 18 tonnes from using the bridge, which has been beset by structural problems for years due to drivers ignoring the rules.
Although the company's coach itself weighs 16.05 tonnes with a full tank, Søren Riis, a manager at Riis Rejser, has apologised and said drivers won't take the route in the future.
She said: "We were not aware that this bridge crossing was forbidden also for tourist coaches, as we thought this was only for trucks of over 18 tonnes.
"We have immediately stopped crossing this bridge, so it will not happen again.
"We are sorry for this misunderstanding and inconvenience this bridge crossing has made and have immediately told our drivers to stop crossing the old historic bridge."
Ms Riis said the company brings around 800 to 1,000 Danish tourists on round trips of Scotland every year.
Aboyne, Upper Deeside and Donside councillor Geva Blackett has successfully campaigned for an alternative bridge to be created, in order to preserve the future of the historic structure.
She said: "Gairnshiel Bridge is a hugely important structure both in terms of the design and history, as well as being an economic necessity as it cuts off two sides of a triangle of roads between Upper Deeside, Donside and Speyside.
"I am so pleased word is getting out to bus companies, but I get reports almost daily from people saying articulated lorries continue to ignore the weight limit.
"We want everyone to be able to use the route and the process for a new bridge running alongside is underway, but it will be 2022 before it is open."
A spokesman for Aberdeenshire Council said: "With Gairnshiel categorised as a weak bridge, this footage is very concerning and we will be investigating."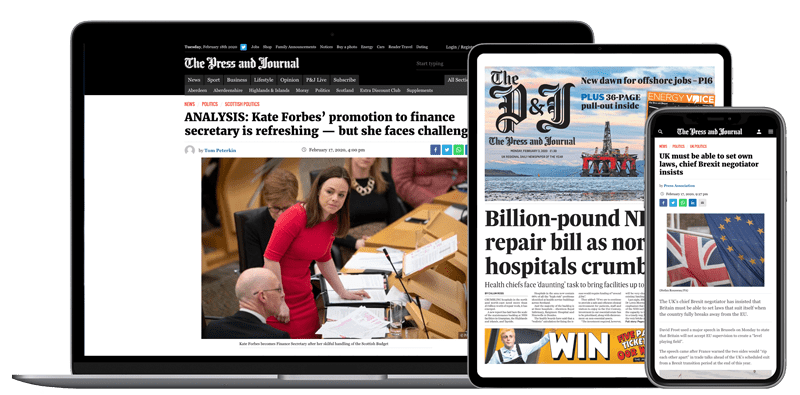 Help support quality local journalism … become a digital subscriber to The Press and Journal
For as little as £5.99 a month you can access all of our content, including Premium articles.
Subscribe