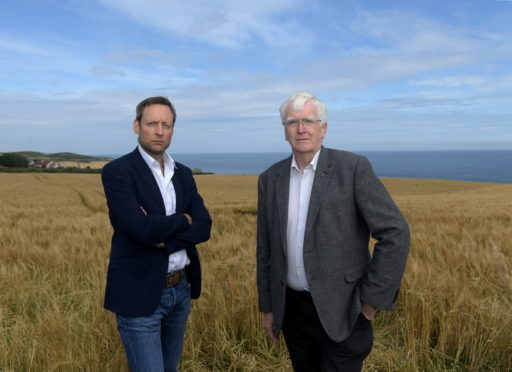 Work on a controversial housing development, which attracted more than 650 letters of objection, will start this year, after the Scottish Government overturned a decision by Aberdeenshire Council to refuse the application.
Barratt North Scotland had its proposals for 121 homes in Newtonhill rejected by the local authority's Kincardine and Mearns area committee last year, following concerns it could impact on local schools, landscape and infrastructure.
However, the developers appealed to the Scottish Government, which has now gone against the council's wishes and granted planning permission, subject to conditions.
The Scottish Government reporter has also told Aberdeenshire Council to pay for the expenses incurred by Barratt in its appeal.
North-East regional MSP Liam Kerr said: "Aberdeenshire Council were best-placed to know what constitutes too much development.
"GP services, schools and local infrastructure are already stretched.
"Thanks to cuts in the money it gets from the SNP Scottish Government, the council can sorely afford to pay expenses."
North Kincardine councillor Ian Mollison, who initially proposed the motion to reject the plans, said: "The area committee agreed this was not the right place, or the right time.
"People can take different views as planning is not black and white, however the reporter does not believe other people are entitled to a different view.
"If councillors aren't free to take such decisions, what's the point of having councillors?"
Michael Morgan, chairman of the Newtonhill, Muchalls and Cammachmore Community council said: "I'm extremely disappointed and this is not democracy.
"For a small community of only around a couple of thousand people, we had more than 650 put forward well-thought out objections, and they've just been totally ignored."
David Palmer, the managing director at Barratt North Scotland said: "We are pleased to have received planning permission for the development and look forward to starting construction later this year.
"The development reflects our business's continued commitment to investing in the Aberdeen market.
"This development will deliver a range of new family homes including 30 affordable properties, whilst also generating employment opportunities within the local area.
"We also recognise the reporter's decision to award expenses to Barratt Homes due to the council's unreasonable basis for originally refusing planning permission.
"On the back of that decision, we shall be making a contribution towards a worthwhile cause within the local community."
A government spokesman said: "Scottish Ministers are committed to seeing the right developments in the right places.
"The reporter was required to make his decision in accordance with the local development plan for the area – taking into account the submissions made by all parties, including those who objected to the proposal.
"The reporter awarded expenses against the council as they failed to support the reasons for refusal of planning permission and failed to show reasonable planning grounds for the decision.
"The reporter decided that the council had acted unreasonably and the appellant had incurred expense that would otherwise have been unnecessary."