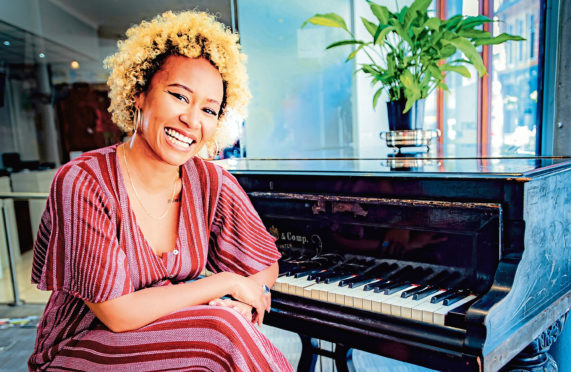 With several top-10 singles, four BRIT Awards and even an MBE under her belt, Emeli Sandé hasn't done too badly in her 32 years on Planet Earth.
For those of us in Aberdeenshire, she's something of a homegrown hero, and is soon to be hitting our eyes and ears once again with a new album and TV show.
But let's rewind for a moment and take a closer look at how we got here. How does a young, black singer-songwriter from the shire end up performing at the opening and closing ceremonies of the London Olympics?
Originally born in Sunderland, Emeli moved from one north-east to another when she was four, after her family settled in the quiet village of Alford, just outside Aberdeen.
It was here she lived until her late teens, when, as many Aberdonians had done before her, she hopped into a car on the A90 and headed south for the bright lights of the central belt.
Emeli Sande apologises to fans for pulling out of gig after losing voice
And she hasn't looked back since, instead making her way further south to London where she has now been for the last decade.
It's not hard to see why, with the big smoke offering more opportunities for aspiring singers than Aberdeen could hope to.
Yet Emeli had always been proud to say she grew up in the north-east, and as the phone rang and I waited to be connected, I was curious to hear whether she had maintained any Doric inflections.
"Hi! It's great to speak to you!" she said enthusiastically, picking up the phone.
I couldn't detect any "foos yer doos" or "fit likes" in that sentence.
She laughs off my tentative questions about a hidden Doric accent ("maybe VERY deeply hidden"), but is more than happy to declare that Alford still feels like home.
"My mum and dad still live there," she said, "and I do get to come back and visit them quite a lot.
"My mum works in Aberdeen and my dad works at the academy, where he still runs the choir that got me into singing."
Emeli credits her parents for her early love of music.
"At home I would hear all sorts of different musical styles," she said,
"My dad is from Zambia and would play loads of traditional African music, meanwhile my mum is from the north of England and preferred pop rock.
"Then, being in Scotland, of course, it was like 'let's throw some ceilidh music into the mix!' along with choir songs and all the stuff that was in the charts when I was growing up, so it was a whole melting pot of influences.
"That was the great thing about Alford really, I had the space and freedom to explore all those kinds of music.
"The village was so quiet that I could be any kind of musician I wanted, I wasn't pigeonholed into a box or a genre.
"On the other hand though, I ran into a different problem and remember thinking 'how am I going to get anyone to hear my music from here?'"
As far as stumbling blocks go, it was a pretty big one.
But she was determined, and as a result, there wasn't a talent show or open mic night for miles around which didn't have her name, Adele Emily Sandé, on the bill.
"I even went to do a couple of gigs in London," Emeli said.
"It was a nine-hour drive for my parents each time, but I've been so lucky with how much they supported me."
But around the time Emeli finished school, she came to a sudden fork in the road.
She had accepted a place to study medicine in Glasgow when an offer came through from a London record company who wanted her to record a single.
"I turned it down," she remembers.
"Everyone thought I was mad, even my parents who wanted me to go and study.
"But it was only one single… if I was dropping everything to go off down to London I wanted more than that, an album at least.
"What if it didn't work out? I'd have nothing to fall back on.
"So I stayed studying in Glasgow for four years and specialised in neuroscience.
"It was only after that that I allowed myself to give London a try and pursue a career in music."
She hit the ground running, quickly falling into a group of like-minded singer-songwriters including Wiley, Chipmunk and Naughty Boy.
Together they went on to write songs for the likes of artists such as Alesha Dixon, Devlin and Cheryl Cole.
To avoid confusion with a certain other Adele, she began to go by her middle name, changing its spelling to stand out more, and quickly established her trademark soulful voice and heartfelt lyrics.
"When Heaven came out with Professor Green [in 2011] and went straight in at the top of the charts it was absolutely surreal," Emeli said.
"It's a really difficult industry to break into, but my hard work was paying off."
Her timing was impeccable: in 2012, the country was in the grip of Olympic fever, and Emeli's uplifting early singles were well received by both critics and the public.
Her debut album, Our Version of Events, would go on to sell more than 5.4 million copies.
The period which followed was a whirlwind of success, though recently Emeli has been notably absent from both the charts and the media.
From an outsider's perspective, it seemed as though she was beginning to suffer the side effects of fame: her marriage to the man she had been with since the age of 17 had crumbled and her chart success taken a dive.
After such early highs, the lows seemed to be coming thick and fast.
"It was a difficult time," said Emeli, "and it took a while to get my confidence back.
"I realised that I had never really been alone, like, alone alone, and it took years to feel comfortable with that.
"I'd lost all confidence in myself, but in the process of getting it back it did give me a new perspective on life.
"I feel like when I enter a new relationship now I'll have more to give because I'm not looking for another 'half' any more, I'm already whole and comfortable with myself, which is something totally new to me."
Time away from the spotlight meant more time for writing as Emeli focused on putting together an album she loved.
"It's big and raw and soulful with lots of strings and even a gospel choir at certain points," she said.
"It was a really freeing album to write and record."
But that's not all she's been up to, as a new programme called Emeli Sandé's Street Symphony is hitting our television screens for the first time on Thursday.
In the show, Emeli travels across Scotland checking out some of the talented buskers performing on city streets, selecting six to join her for the performance of a lifetime with the BBC Scottish Symphony Orchestra.
"I've been approached in the past to get involved with TV talent shows but I've always been reluctant," she said.
"But when I heard about this one I loved how it was about developing real passionate musicians, and how the people involved were allowed to play their own music.
"There's no sob story about how they're 'doing it for their nan' or any of that, instead you get to know the person and their dreams.
"It was really inspiring for me too.
"When I was asking them about their ambitions, not one person said they wanted to be famous or make lots of money.
"They all said that they simply loved music and something in them drives them to want to perform."
She says it gave her a lot to think about, and as Emeli prepares to embark on a new European tour, her focus has shifted slightly.
No longer fixated on the winning formula for a number one, her goal now is simply to be heard.
Emeli Sandé's Street Symphony is airing on Thursday, September 19 at 10pm on the BBC Scotland channel and will run as four 60-minute episodes over four weeks. Emeli's new album, Real Life, is out now, with a tour that begins in October.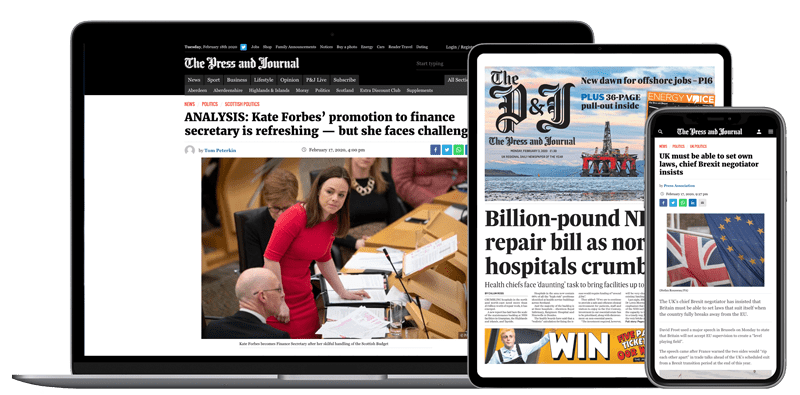 Help support quality local journalism … become a digital subscriber to The Press and Journal
For as little as £5.99 a month you can access all of our content, including Premium articles.
Subscribe