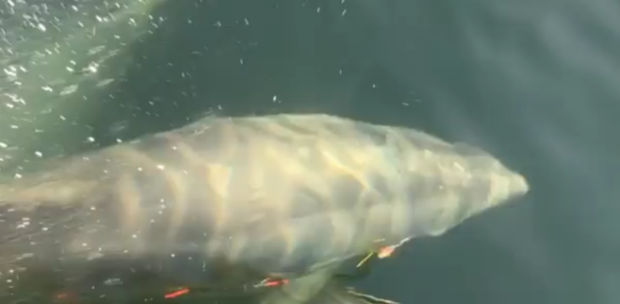 A young dolphin from the Moray Firth population has become snagged by a series of fishing hooks.
The three-year-old bottlenose has been recorded by the Banff-based Cetacean Research and Rescue Unit (CRRU) swimming around with five coloured hooks embedded into its flesh.
Four of the hooks can be seen stuck into its right-hand side, with a fifth suspected to be stuck in its jaw.
It is the first time the CRRU has noted such an incident taking place in its 23 years of studying the Moray Firth bottlenose population.
A spokesman for the charity said: "Unfortunately, it would be impossible to remove the hooks, and we can only monitor the dolphin's progress and how the wounds may heal over time.
"Nevertheless, such incidents emphasise the need for long-term monitoring studies implementing guidelines for the management of coastal cetacean populations.
To find out more or support the CRRU's work visit www.crru.org.uk