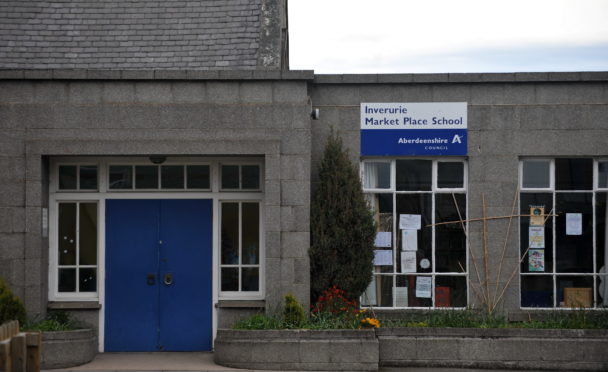 Plans to turn a school into a community facility in an Aberdeenshire town have been thrown out by both the council and Scottish Government in favour of its potential as a car park.
The Garioch Partnership (TGP) has been seeking to take over the former Market Place Primary in Inverurie but has now expressed dismay that the Victorian building now looks likely to be demolished.
It closed down in October 2017 when pupils transferred instead to the town's new Uryside school.
And community asset transfer request was made to the council's Garioch area committee to turn it into a new facility for all manner of groups in Inverurie to use.
The committee dismissed the application, arguing the business case was not sufficiently robust, prompting the partnership to appeal that decision to the Scottish Government.
But this week, TGP has been informed by the government's communities and local government secretary, Aileen Campbell, that their appeal has also been dismissed.
It is understood Aberdeenshire Council wants to use the primary school site to create a new car park.
A statement from John Chapman, chairman, and Dawn Brown, development worker, on behalf of the TGP board, said: "TGP would like to assure the community that we did all we could do ensure the building would be retained for community use and thank you all for unwavering support to this local project.
"However, Aberdeenshire Council has yet to do anything to offer another suitable property, despite an initial discussion on identifying other possibilities on February 12, 2019, and subsequent requests for further information on this from the partnership, which was highlighted in the appeal submission to the Scottish Government.
"We are disappointed and saddened that the Victorian-built Market Place Primary School building will be demolished and lost for the community.
"We remain committed to supporting people in our community, community groups, and local social enterprise and doing all we can do support the growth of the third and community sector in Garioch, within the budget constraints that TGP are working with."
Aberdeenshire Council's Garioch area manager Margaret-Jane Cardno said: "The decision will help the council to progress its plans to bring public services into the heart of Inverurie.
"We do appreciate that the news will be disappointing for TGP and we will continue to work with the group to see if their ambitions can be realised elsewhere in the town."