Music has an incredible power, the impact of which is universal.
Regardless of where you are in the world, music is able to uplift the mood or convey tragedy in a matter of seconds.
And while the artist of choice is personal preference, it is somewhat different when it comes to a film score.
The haunting beauty of the instrumental known as The Dream, which was written by award-winning composer James Horner for Titanic, versus the jazzy beat to La La Land, music is able to set the tone and even change the pace, simply because of what it stirs within us.
For Benjamin McMillan, music can even be a means of conveying serious topics such as mental health.
The dedicated composer was asked to produce the score for Connect, a film which tells the story of a young man's battle with his mental health.
It stars Scottish actor Kevin Guthrie, who also appeared in Sunshine on Leith.
For Benjamin, who lives in Stonehaven, the plot and accompanying music were a way to explore the reality of mental health, both for the sufferer and loved ones.
But how do you become a composer in the first place?
"I'm one of eight, but out of all my siblings I am the only one who had a real love of music," he said.
"I was the pasty white child messing about with the piano indoors while all the other kids were playing outside.
"My mum was a pianist but I refused to learn originally.
"I always found it easier to write music than to play it. Even before I went to university, I was able to write music.
"I would say piano is the main instrument which I play.
"There's also the clarinet, flute, cello, guitar and I was a percussionist at university.
"I actually get really nervous about performing, I'm much happier behind the scenes.
"I don't really know how to describe my love of film music, I think it's awesome.
"The score for Black Panther, for example, it's amazing.
"My friends often ask me to compose something special for them at their wedding, they want to be played down the aisle."
Benjamin already has a rather impressive track record having studied in New York.
He spent two years at the renowned NYU Steinhardt, which is one of the most prestigious film music schools in the world.
Prior to his US trip he was also championed by his teacher and mentor, celebrated composer Professor Paul Mealor – whose credits include the wedding of the Duke and Duchess of Cambridge.
"New York was very intense because you were graded on your dissertation almost every week," said Benjamin.
"It's not like in the UK where you hand your work in at the end of the year.
"I think there are a lot more opportunities in places like London for composers, and it is an incredibly competitive industry.
"My brother is a casting agent and knew the director of Connect, Marilyn Edmond.
"She asked him 'does your brother still write music' and that's how I got involved.
"I've done a few short films and documentaries, this is the first time I've been given full reign.
"I was so excited to get involved, particularly because the film focuses on mental health.
"I am very lucky to not have experienced mental health issues myself.
"But within my social circle, I know of two people who committed suicide.
"This topic is very real and I had to think carefully as to how I wanted the music to reflect it.
"Quite often you find that people say they feel numb, I needed a way to convey that through music.
"I also wanted to reflect how friends and family would be feeling.
"I had to juggle my day job in hospitality with writing the score; it took me about a month-and-a-half in total."
You would be forgiven for thinking that Benjamin scoured the country for musicians, in search of those who would bring the notes to life.
Thanks to the wonders of technology, all he needed was his laptop.
"Having an orchestra is really expensive, especially if you're working to a budget," said Benjamin.
"I produced everything synthetically through my laptop.
"It's known as a digital audio work station; you learn how to use the software so everything sounds realistic.
"Unless you have a musical ear, you wouldn't be able to tell the difference."
Benjamin has also recently been commissioned to produce a piece of organ music for St James The Great, the Scottish Episcopal church in Stonehaven.
"There is going to be a big service on November 16, as a celebration of organ music," he said.
"I'll actually be playing the organ as well, which is maybe unusual for a composer."
As for the next generation of composers, Benjamin believes pupils need to be nurtured early on.
"I used to teach piano, and although the kids were lovely, I think only 10% of them actually wanted to learn," he said.
"Of course I think every kid should be given ample access to music.
"But we should stoke the fire of those who show a passion.
"I'd say I'm a quiet person, and music is a way to be heard."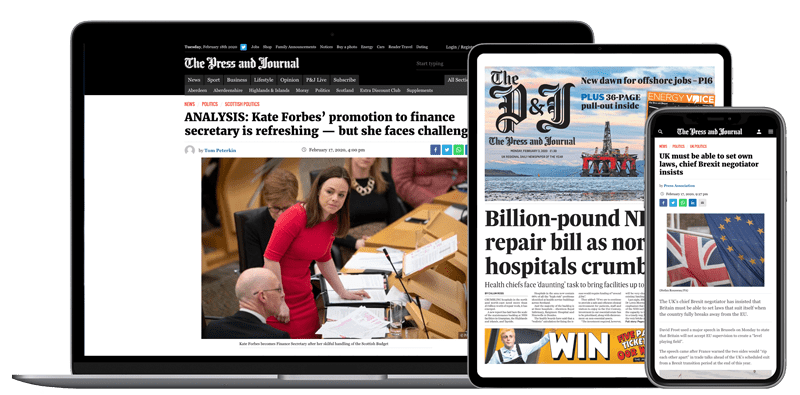 Help support quality local journalism … become a digital subscriber to The Press and Journal
For as little as £5.99 a month you can access all of our content, including Premium articles.
Subscribe