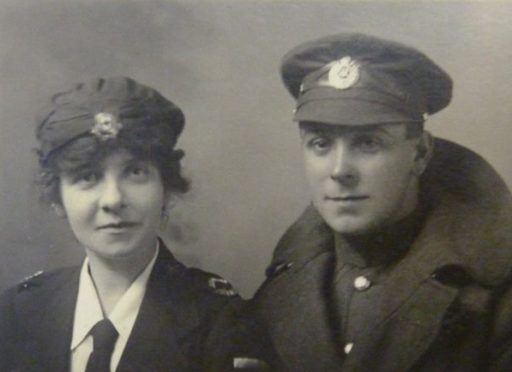 A north-east family has been reunited with treasured diaries penned by a relative as he risked life and limb during the First World War.
Peterhead-born Lance Corporal Robert Stephen's notes were feared lost for 20 years before being plucked from a skip in England and passed to the Aberdeen City and Aberdeenshire Archives last year.
Mr Stephen's great-nephew, Rob Stephen, is the custodian of an "astonishing" collection of military mementos he left behind, and was stunned when his eight-year-old son excitedly pointed out a Press and Journal article about their discovery.
Mr Stephen junior recently visited the council's archives department to view the diaries and has now shared more information about his predecessor's wartime exploits.
It has emerged that L/Cpl Stephen was something of a documentarian of the conflict.
As well as keeping a daily journal – almost unprecedented in a soldier of his rank – the Royal Engineer took scores of photographs which he meticulously curated in an album.
Like his practice of keeping diaries, taking photos was a very unusual hobby for a soldier at the time.
Many of the men he is pictured with in the sepia-tinted images have been marked with an "x" and a note of the date and circumstances of their death.
Others depict German tanks, ruined churches, people he encountered in Belgian villages, international officers and a "German plane shot down in flames by British aeroplanes".
There are also photographs of the graves of his friends, many of whom he buried himself after their deaths in battle.
To his great nephew, who lives in Aberdeen, L/Cpl Stephen was simply "uncle Bob", and he has looked after his collection of keepsakes from the war for decades.
Among the items is a rusty piece of shrapnel which tore through L/Cpl Stephen's torso after a bomb blast – leaving him "millimetres from death".
There are also heart-wrenching letters that his parents sent him breaking the news that his younger brother, Alfred John, had died in conflict in 1918, aged 19.
L/Cpl Stephen's mother lamented: "But oh Robert, Robert. Poor Alfred will come back no more."
Mr Stephen junior also has his great-uncle's identity tags, the bolt from his rifle, his epaulettes and even the belt from his uniform.
The 59-year-old retired maths teacher said: "Bob saw military service in all the worst places. He was at Arras, Cambrai, Paschendale, Ypres.
"It is incredible that he survived and that we have his memories to look back at."
L/Cpl Stephen, who was born in 1894, kept a record of the harrowing scenes he witnessed along with a daily account of his life.
The Sapper with the Highland Division of the Royal Engineers described the "horrible sights" he observed on ravaged battlefields and the "great rejoicing" which occurred when the guns fell silent.
On November 11, 1918, he wrote: "I overheard the bells as I was going over open country with Dolly [his horse]."
In capitals, he added: "HAPPY DAY. THANK GOD."
After leaving the Army, L/Cpl Stephen moved to Glasgow and later relocated to Kent to be nearer his daughter, Ruth.
He died in 1980, and the three small books were handed down to a relative before going missing around the year 2000.
Mr Stephen junior explained a Press and Journal article helped reunite him with the priceless family heirlooms.
He added: "My son has a tremendous interest in history and came across the article about the diaries being found on his mum's phone.
"He said 'look, it's your great-uncle', but I initially dismissed it and thought it couldn't possibly be him.
"It is a real mystery what happened to the diaries until they turned up in that skip.
"I think it's incredibly important that these are seen. I think it is right that people know what the war was like.
"You can read about it in a history book, but that isn't the same as these diaries.
"What Uncle Bob has left behind is astonishing."