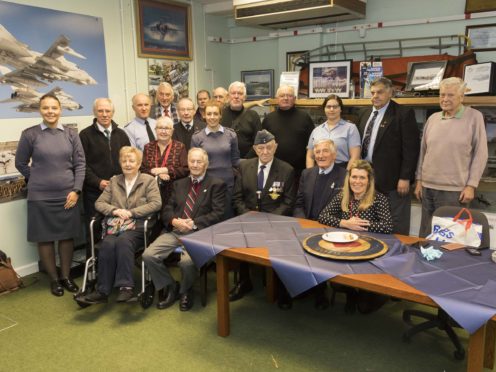 A World War II veteran has been treated to an air force themed 100th birthday.
Paul Bogan joined the Royal Air Force as a boy entrant, initially training as a wireless operator and then as a wireless and electrical mechanic.
During the war he served in a mobile unit, providing support to the army.
He was demobbed in 1947, and then worked in engineering roles, including as a broadcasting engineer for the BBC.
Now, more than 70 years on, Mr Bogan got the chance to revisit some of his war-related memories.
The Kemnay veteran has the sight condition age-related macular degeneration and is supported by charity Scottish War Blinded.
To celebrate his milestone birthday, the charity and outreach worker Ingrid Penny organised a party at their monthly lunch club in Inverurie.
Staff and volunteers then accompanied Mr Bohan and some of his fellow veterans with sight loss to a VIP tour of Morayvia – the Science and Technology Experience Project in Kinloss.
The group enjoyed exploring a Nimrod and a Vulcan among other aircraft at the centre, which opened up especially for the special tour.
Afterwards, they headed to RAF Lossiemouth where they were met by Flying Officer Hannah Jones, Warrant Officer Mark Ratcliffe, and other RAF personnel.
Flying Officer Jones said it was a "privilege" to host the veterans.
Mr Bohan said: "The hospitality from everyone was outstanding, I was treated like a VIP all day.
"Everyone went out of their way to make this a memorable day for me.
"At 100, I am still learning things. Things have certainly changed since I joined the RAF 82 years ago."
Other veterans also expressed their thanks for the special day.
Scottish War Blinded veteran Patrick Wire added: "I was always impressed by the RAF when I served with them and now all these years later I was equally impressed.
"Everyone did their best to make us feel welcome at Morayvia and Lossiemouth and it was very inclusive. The tour at Morayvia was excellent, everyone was very knowledgeable and gave us time to ask questions or explain things."
Scottish War Blinded gives free support to former servicemen and women of all ages, no matter if they lost their sight during or after service. To find out more, visit www.scottishwarblinded.org or call 0800 035 6409.