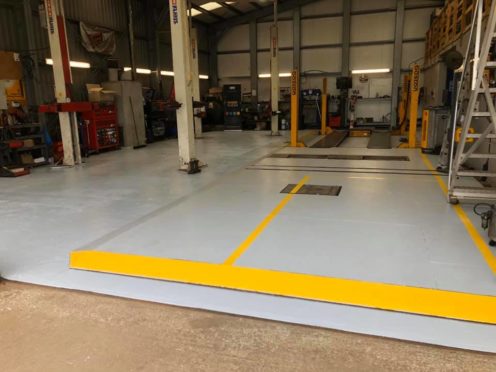 A north-east business owner has been left in a "make or break" situation after being declined a grant to help his company through the lockdown.
As managing director of Mearns Motors Ltd, Ian Greig employs 10 people at the firm's garage in Laurencekirk.
With the government having suspended MOTs, which forms the bulk of their business, staff are currently on furlough.
Mr Greig applied for a Coronavirus Business Support Grant of £25,000 from Aberdeenshire Council, which administers the grant on behalf of the Scottish Government.
However, he said his application was declined after council officials told him garages were not entitled to support.
Mr Greig, however, believes several garages in other parts of Scotland have successfully applying for the grant.
"I received an email on Monday morning saying our application had been declined because garages are not on their list of businesses entitled to payments," he said.
"Other small businesses such as bed and breakfasts are receiving payments, so it seems strange and unfair that we are expected to go without.
"Apparently we don't meet the necessary criteria, but I've been in contact with several other small garages such as ours across Scotland, and all of them have received the grant."
Aberdeenshire Council's website states: "If you are in the hospitality, leisure or retail sectors and your property has a rateable value between £18,000 and £51,000, you should be eligible for a £25,000 grant."
Mr Greig has contacted the council for clarification.
He said he found the prospect of having to get by without the grant "daunting".
"This could be make or break for the business," he said.
"If I have to close down then that's 10 people unemployed.
"We're managing to keep our heads above water just now and have claimed for furlough payments.
"It would be great for all businesses if we could get back up and running in three or four weeks or whenever it's going to be.
"But in the meantime we all need a bit of help to get by and so to be declined this grant just feels very unfair."
A spokeswoman for Aberdeenshire Council said: "The criteria for the support that we are able to give to local businesses is set out by the Scottish Government.
"There are a number of different schemes that have been launched to support businesses and details of those can be found on our website.
"To date we have supported 1,727 businesses and have distributed £22 million of funding to help support our local economy."