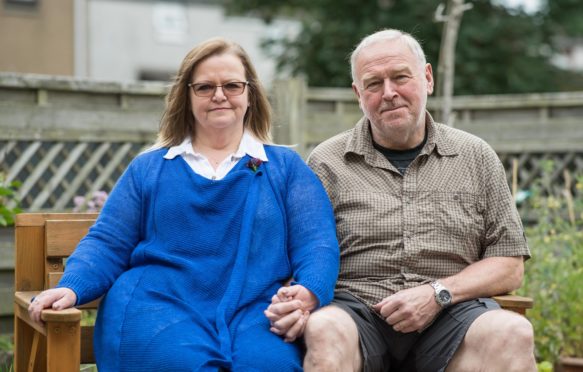 An Aberdeenshire MND sufferer says he has been left "scratching around to survive" amid the coronavirus pandemic.
Colin Jones, 63, was diagnosed with the rapidly progressing terminal illness in 2016 and is at high risk of infection if he contracts Covid-19.
Alongside charity MND Scotland, he has called on the government to class all those with the condition as "extremely vulnerable."
Currently, only people with MND who have problems with swallowing and breathing are on the shielding list in Scotland.
During lockdown, Mr Jones and his wife, Shirley, have not ventured beyond their garden fence, for fear of contracting the virus.
He said: "I have MND, but I don't have any issues with my breathing, so I have not been placed on the shielding list.
"I've been self-isolating for more than five weeks because my GP told me that under no circumstances should I leave the house.
"We're relying on our daughter Stephanie for food deliveries."
We are calling on @scotgovhealth Cabinet Secretary @JeaneF1MSP to include people with #MND on the shielding list of those who are 'extremely vulnerable' to Covid-19 – and we need your help. #GetMNDonTheList.https://t.co/0PwnaB33re

— MND Scotland (@MNDScotland) April 24, 2020
Mr Jones has been able to go through Aberdeenshire Council and receive assistance with the delivery of medication, which he described as a "huge relief", alongside others in the community.
He added: "For me and the other sufferers of this devastating and crippling condition the future is dire.
"With the arrival of this pandemic it has just thrown our future, as it was, into complete disarray.
"To then spend what time we have left scratching around to survive is beyond comprehension."
He has joined MND Scotland's call to "Get MND on the List".
This week, the charity wrote to Cabinet Secretary  for Health and Sport, Jeane Freeman, over the issue.
Craig Stockton, MND Scotland's chief executive, said: "We're urging the Scottish Government to define everyone living with MND as being 'extremely vulnerable' as a matter of urgency, ensuring that those affected in Scotland have access to the vital support they may need during this worrying time."
To find out more about the campaign, go to www.mndscotland.org.uk/shield.