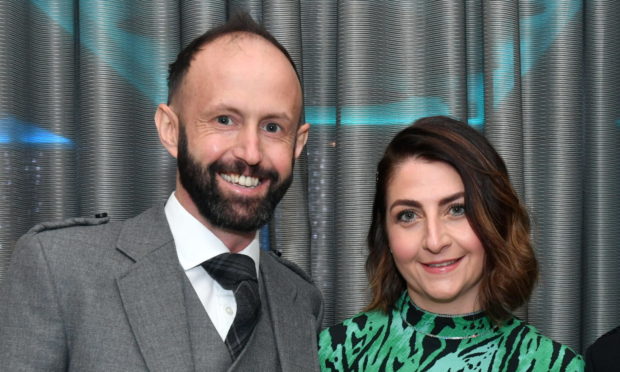 Family and friends will never forget Ewan Cowan, who they knew as a "quiet man with the roar of a lion".
Diagnosed with bowel cancer in 2017, the 38-year-old passed away at Aberdeen Royal Infirmary last week.
Given lockdown restrictions, his friends and family currently cannot come together to remember the "incredible" man who "lost no battle" due to his inspiring, positive attitude to living with cancer.
Originally from the North Ayrshire town of Kilbirnie, Ewan moved to the north-east for work, where he met future wife Claire.
The "inseparable" pair got engaged on the banks of Loch Lomond and went on to have a son, Brodie.
In the following years the small family, from Blackburn, weathered Ewan's unexpected diagnosis together – calling it "our cancer".
Claire said: "He was diagnosed in October 2017 with stage 4 bowel cancer.
"He was tired and had lost some weight, but he was working, we had a young child – it didn't seem out of the ordinary.
"We were given a very bleak outlook to begin with, he was told he had 6-9 months left to live."
But live Ewan did, and family days out, holidays and fundraisers all followed, and were fitted around his chemotherapy.
When the Cowans got the, albeit temporary, news that the cancer had been "pushed back", they laced up their trainers and raised over £6,000 for Bowel Cancer UK by taking part in the Great Aberdeen Run.
The Balmoral 10k followed, this time for Friends of Anchor, who provided invaluable support during Ewan's chemotherapy.
Claire said she had "never been prouder" than when her husband crossed the finish line with a jubilant Brodie in his arms.
Ewan also took part in Friends of Anchor's Brave event last year, which raised significant sums for the cancer support charity.
The event celebrates men who have had or are living with cancer, their friends, families and the clinical teams supporting them, and shows that "each person's cancer story is different."
Tributes to the 38-year-old have flooded in since he passed away on April 25 and, moving forward, Mr Cowan's "infectious enthusiasm for life" will live on in his loved ones.
"Ewan was a fighter," said his wife.
"He was so strong, kind and had an infectious enthusiasm for life.
"The cards we were dealt weren't good but we had each other, we had Brodie, and cancer was never going to stop that.
"Ewan lived the hell out of life. He lost no battle."
Ewan was also a keen mini enthusiast and was working on his mini project, which sadly he didn't get to complete prior to his death.  With the help and support of the Aberdeen mini club and Ewan's brother Andrew, Claire and Brodie hope to complete the build.
And, also after lockdown is lifted, a celebration of his life will take place.
Mr Cowan's family, including mum Iona, brother Andrew and sister Fiona, would like to thank the ARI staff, Friends of Anchor and the Grampian MS centre for their support during his illness.
'Symptoms can't be ignored – Don't wait to call your doctor'
Claire has also urged people to not put off doctor's appointments during the current pandemic.
The country is currently experiencing a 72% reduction in urgent suspected cancer referrals by doctors.
Previously Dr Gregor Smith, Scotland's interim chief medical officer, voiced fears that people with cancer symptoms are not coming forward due to the coronavirus crisis.
He said GPs had reported far fewer people than usual coming forward with "symptoms and signs" of cancer.
I'm supporting the @NHS to remind you to get symptoms of cancer checked. Cancer referrals are down in the U.K. by 75% which could equate to an extra 18,000 lives lost over the next 12 months due to cancer as a result of #COVID19 – Early diagnosis saves lives. Spread the word-#nhs pic.twitter.com/hDePzINavx

— Deborah James (@bowelbabe) April 29, 2020
He urged anyone with new or persistent symptoms to "seek advice in the way you would have done before Covid-19" – a plea that has been reiterated by Claire.
She said: "During lockdown, cancer referrals are decreasing.
"If people put off going to the doctor, then that will impact treatability and put more pressure on the NHS staff with more cases later in the year.
"I don't want any other family to go through what we have. Cancer can't wait.
"If bowel cancer is caught early on, that makes a huge difference. Phone your doctor. Get an appointment. They aren't too busy and symptoms can't be ignored."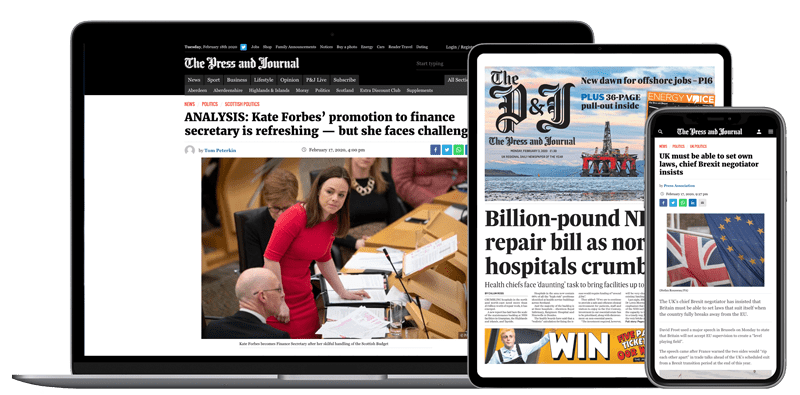 Help support quality local journalism … become a digital subscriber to The Press and Journal
For as little as £5.99 a month you can access all of our content, including Premium articles.
Subscribe