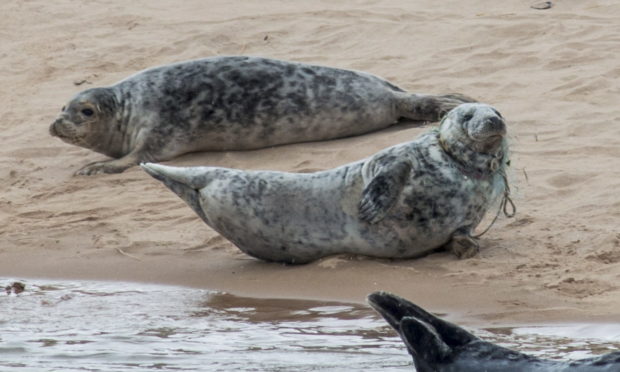 A seal has been spotted on an Aberdeenshire beach with what appears to be the remains of a discarded fishing rope entangled around its neck.
The animal was observed at Forvie National Nature Reserve in Newburgh shortly after noon on Thursday by Press and Journal and Evening Express photographer Paul Glendell.
Mr Glendell only noticed the discarded marine litter around the seal's neck after closer examination of some images later in the day.
He reported the incident to the Scottish SPCA alongside the British Divers Marine Life Rescue (BDMLR).
Scottish SPCA chief superintendent Mike Flynn said: "We are very sorry to hear about the seal that seems to have fishing line caught around its neck.
"What makes this even more upsetting is that it is easily avoided by people properly disposing of their litter.
"All too often we get reports of wild animals being injured or dying because of discarded fishing wire or rubbish.
"This is a stark reminder to everyone to please dispose of their waste responsibly.
"No matter how small, it has the potential to be dangerous or lethal to wildlife."
Scottish SPCA has encouraged anybody who spots the seal to call their helpline immediately to ensure the creature can receive the immediate veterinary attention it requires.
Mr Flynn added: "Anyone concerned about the welfare of an animal should contact our animal helpline on 03000 999 999."
Julia Cable, national coordinator for BDMLR said the tangled seal has not yet been helped out its predicament.
She said: "Regarding entangled seals, the message is very clear.
"Don't approach the animal or try to catch it to remove the restriction, this only benefits an animal in very occasional circumstances.
"Seals have a powerful bite and if the animal is injured, it is likely to be in pain and therefore even more agitated.
"Entanglements which are cutting into the animal should be removed very slowly being careful not to harm the animal further, also a sterile environment is important as to not open the wound to further infection.
"Trying to catch the animal without the proper equipment and preparation can cause the animal to flee and may cause it not to return."
The BDMLR hotline can also be contacted on 01825 765546 if a marine animal is spotted in need of help.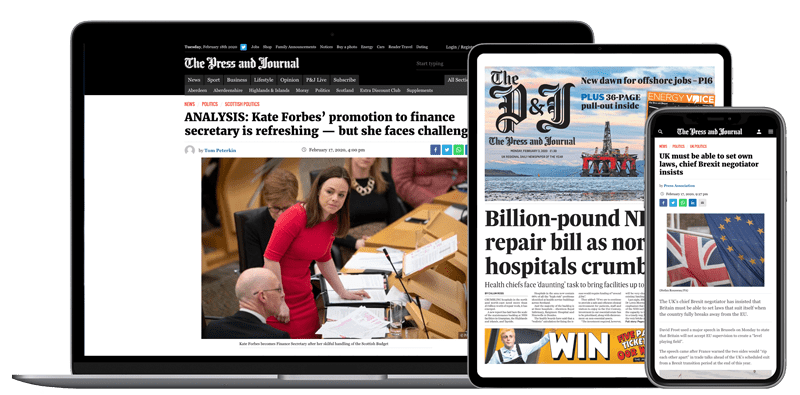 Help support quality local journalism … become a digital subscriber to The Press and Journal
For as little as £5.99 a month you can access all of our content, including Premium articles.
Subscribe