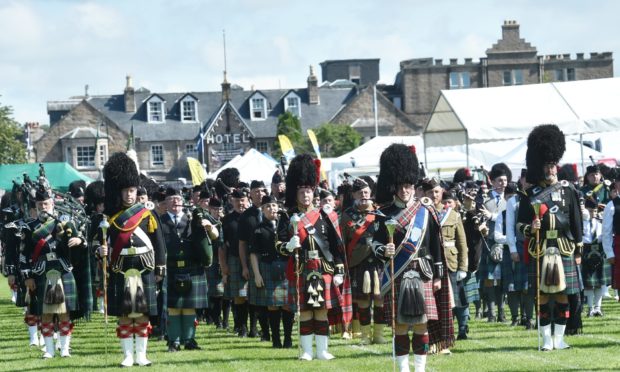 Bagpipers from across the world will compete in an online contest taking place in lieu of the Aboyne Games.
The event, which was due to be held on August 1, was cancelled along with other Highland games across Scotland because of the pandemic – leaving dancers, musicians and athletes across the country disappointed.
But to help provide a platform for solo pipers to play competitively this year, organisers of the Aboyne Games have decided to run three live piping competitions online.
It is believed the committee is the first to run such a competition in Scotland this year.
The competition will involve two heats of 16 pipers, with five going forward from each heat to the finals.
Demand was so high that entries were limited to 32 places, and of those competing, two-thirds are from the UK, and the remaining pipers will be taking part from their homes in America.
Competitors will perform live on August 1 over the internet, overseen by stewards, and audio recordings of their music will be sent along to judges.
Jack Taylor, the piping convener of the Aboyne Highland Games, came up with the idea.
He said: "The response we have had from pipers to take part in this competition has been excellent.
"Among those due to perform are a few who have won gold medals for solo piobaireachd piping at the Northern Meeting or Argyllshire Gathering, so we are anticipating a high standard of competition.
"More pipers are due to play than usually participate in the solo competitions at Aboyne Highland Games, and there is added interest of some joining us from America.
"We felt that being able to offer solo pipers the opportunity to compete this year was important for them individiually and collectively as a piping community, and also for us as a games."
Mr Taylor added: "On the day, we are aiming to recreate our usual competition setting by having the pipers perform for us live, with our stewards overseeing the audio recording of each performance through video conferencing software.
Games chairman Alastair Grant said: "Moving our three open piping events online shows how Highland games can adapt and innovate, just as they have done historically.
"This online competition is an excellent way for this year's Aboyne Highland Games to still have a competitive element on games day, one which is very safely socially distanced.
"The generous support of George Strachan Ltd in sponsoring these online events ensures that pipers have more opportunities to play competitively this year.
"Jack and his piping stewards have done an excellent job to bring this competition to fruition and we look forward to hearing the performances when we post them online in early August."
As well as the online piping competition, the Aboyne games committee are currently finalising other plans to mark games day on August 1.
The annual event, which was founded in 1867, attracts crowds of up to 10,000 to the Deeside village.