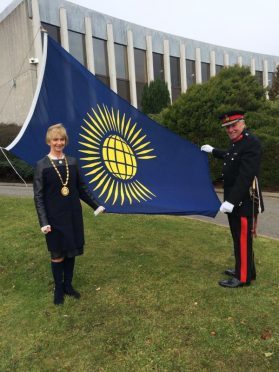 Aberdeenshire Council will not take part in Commonwealth Day celebrations today – and all because of a broken flagpole.
The local authority marked the annual event for the first time last year, but the celebrations have been suspended after the pole from which the flag would have been flown was damaged in Storm Frank.
Now the move to quietly shelve the event has been criticised by a north-east councillor.
Banff and District member Michael Roy said it was "terrible" that the council could not use one of the two other flagpoles at its Woodhill House headquarters.
The Conservative councillor added: "I think it's absolutely terrible. There are three flagpoles, two are still serviceable and if they can't fly the Commonwealth flag for a day, it's a pretty poor reflection on the management of Aberdeenshire Council.
"I accept that it is one of the more minor celebrations, but nevertheless it's an extremely important celebration.
"It signals the connection which we have with our past and to dismiss it in such a cavalier way doesn't reflect well on the council."
Commonwealth Day is held on the second Monday in March each year and is marked with a service at Westminster Abbey in London, attended by Queen Elizabeth II as the head of the Commonwealth.
The Queen traditionally delivers an address, which is broadcast throughout the world and, in the year before the quadrennial Commonwealth Games, the baton relay is launched on the day.
However, Aberdeenshire Council has defended the decision to suspend celebrations.
A spokeswoman said: "The council marked Commonwealth Day for the first time last year by raising the Commonwealth flag at Woodhill House.
"Unfortunately, the flagpole was damaged during recent storms and is awaiting repair, so the decision was taken not to proceed with the small ceremony this year."