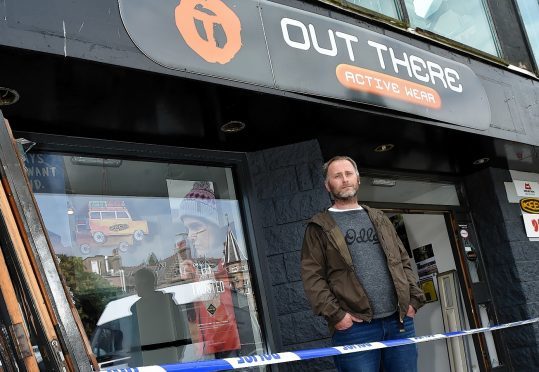 A brazen gang of thieves smashed a car through an Aberdeenshire outdoor sports shop and made off with "tens of thousands of pounds worth" of high-quality stock.
The owners of Banchory's Out There Active Wear store said they were "shocked" and "heart-broken" after some of their most valuable summer clothing was stolen in the early morning heist yesterday.
It's believed the raiders powered the vehicle through the front door of the shop in Bellfield car park at 2.30am and subsequently targeted the retail outlet's most valuable items.
Last night, it was claimed the raiders were from the Liverpool area and the stock would be "halfway there" by now, but police could not confirm if this was the case.
The shop is owned by Nicky Adam, 38, and his wife Anna, 36, both of whom believe the culprits had been in the shop to "cherry-pick" items just days before.
Four cars are said to have been used for the raid, and police are probing if a silver Citroen C5 and cream Mini stolen from Strachan yesterday were among the vehicles involved.
The force insisted it was "keeping an open mind" as to whether the heist was linked to the raid of thousands of pounds of booze from a Spar shop in Culter on Monday – which was done using an Audi Q5 from Inverurie.
Mrs Adam added: "The police were notified about 2.30pm. There was a gentleman on the High Street who had seen cars driving through traffic lights towards Aberdeen at a hell of a speed.
"He walked down and saw the door had been caved in. They believe that four vehicles were involved and one was used to ram the front doors open.
"They then came through the shop, took the stock they wanted – all were high-end brands – and loaded it into other vehicles. Tens of thousands of pounds worth of stock has been taken.
"They [the perpetrators] have come down and had a look, and we believe they could have been in the shop earlier in the week.
"They have clearly cherry-picked what they wanted to take. It is heart-breaking."
The thieves are believed to have made off towards the Cairn O'Mount and Banchory High Street.
Mrs Adam said: "We weren't alerted to the fact until my husband was taking my children to the school. He saw the doors had been caved in and it was a crime scene.
"The police have been terrific, they have been very helpful and stood guard at the shop until we were here."
Marr area inspector, Martin Burgess, confirmed that additional patrols would be carried out in the area, following the theft, and appealed for anyone with information to come forward.
He added: "We are keeping an open mind as to whether the break-in and the theft of the cars are linked."
Mr and Mrs Adam opened Out There Active Wear in Bellfield car park in December 2014. Prior to that, the shop had been located on the High Street since 2010.
Yesterday, Mrs Adam admitted the couple may now struggle to get a hold of similar stock for their summer range, which offers clothing for the likes of walkers, cyclists and runners.
A range of well-known brands, including Odlo, Icebreaker, Haglofs, Fjallraven, Jack Wolfskin and Montane – many of which are hard to find in the area – were stolen in the robbery.
Mrs Adam said: "They have taken a lot of high-end stuff, quite a lot of the brands taken are not widely seen around this area. My husband had a really extensive range.
"It was all of my husband's summer stock which we have to order a good year in advance. Summer stock is ordered in Spring 2015.
"We opened the shop on the High Street in 2010. We have been in this place since December 2014 and have invested a lot of money into the business.
"To be a year and a half into our investment and have all of this ripped away is devastating."
The store was once home to Banchory's only club – DJs and latterly Club Mondo – and the pair embarked on a huge refurbishment of the premises to transform it.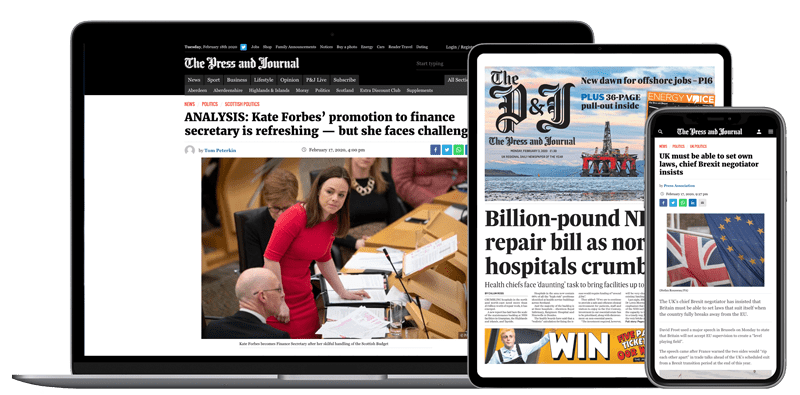 Help support quality local journalism … become a digital subscriber to The Press and Journal
For as little as £5.99 a month you can access all of our content, including Premium articles.
Subscribe