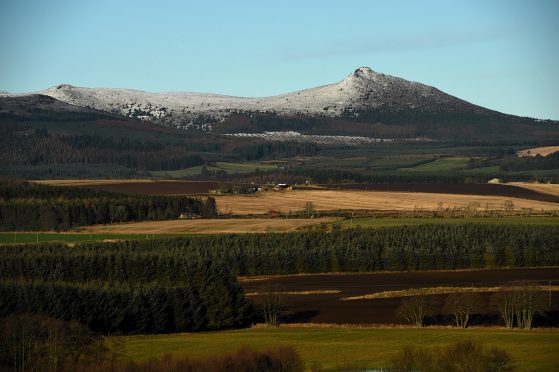 The picturesque landscape around Bennachie could soon be jeopardised by a line of "enormous" new super pylons.
Garioch residents have banded together to oppose Scottish Hydro Electric Transmission (Shet)'s plans for the 165ft structures in a "corridor" which cuts close to the Mither Tap.
Locals were left astonished after receiving letters in February, telling them that a "back up" powerline might be built between Blackhillock and Kintore, coming close to their homes.
Although the exact route of the "reinforcement" power line has yet to be decided, developer Shet has given a broad indication of the "corridor" it will follow.
The company has argued the development is necessary to "reinforce" its transmission system between its Beauly, Blackhillock and Kintore substations.
But yesterday, the coordinator of the Craigearn, Leschangie And Monymusk Pylon Action (Clampa) group, Bill Henderson, said the technology was "50 years out of date".
The protestors claim the pylons – mounted on 164ft-high steel lattice towers, each spanning 985ft across the ground – will pass through Tillyfourie, and past Monymusk and Castle Fraser onto Kintore.
Mr Henderson, 66, of Leschancie, said: "They had consulted at the back end of last year about which way they wanted to take these 50m (165ft) pylons.
"In February, we got this notice about them looking at a different corridor than previously mentioned. It is a very narrow corridor right through Castle Fraser.
"People have started getting really concerned about this, it is right in the viewpoint of Bennachie. These are very, very tall pylons.
"You would get maybe 15 to 20 pylons in front of Bennachie. We think it is really wrong.
"This is 50-year-old technology which they are proposing to use. You get big losses, it is very inefficient. It is old technology in a beautiful part of the country that is un-industrialised and has uninterrupted views."
Mr Henderson called for DC seabed cabling – such as that being installed in the Moray Firth – to be pursued as an alternative.
More than 150 people attended a public meeting in Monymusk Hall to voice concerns on the controversial electricity pylon development last Wednesday.
Chairman of the meeting, Fergus McGhie, said: "We all want light when we push the switch, but this unspoiled part of Aberdeenshire is renowned for its views and visitors.
"It attracts 350,000 visitors annually."
Shet has countered that the scheme is necessary to ensure growing energy demands can be met in the north.
Greig Taylor, the development project manager, said: "This project is at a very early stage and no route has yet been determined.
"We have held 21 consultation events to secure feedback from the public and further engagement events with statutory bodies on potential route corridors for the proposed transmission line."
People have until Friday, May 6 to write to Scottish and Southern Energy on the plans.