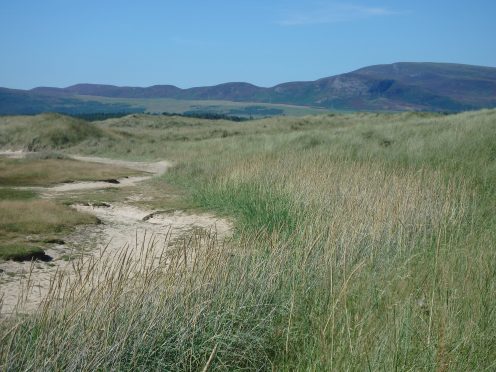 Wildlife organisations will hold a special event this month to showcase a dune system which features in controversial plans for a new worldclass Highland golf course.
Presentations will be given by experts from RSPB Scotland, Butterfly Conservation Scotland and Buglife on the environmental importance of the Coul Links dune system, near Embo in Sutherland.
The area is currently the focus of a multimillion-pound golf project being masterminded by American businessman Todd Warnock, and globally-renowned course designer Mike Keiser.
Mr Warnock, who owns the Links House Hotel in nearby Dornoch, has argued the course would be the key to keeping golfers in the area and unlocking a major economic catalyst.
He added he was also confident his team, led by acclaimed golfing figure, Bill Coore and Ben Crenshaw, can build the course in an ecologically sensitive way.
However, several conservation groups have lobbied against the proposal, including the Scottish Wildlife Trust, RSPB Scotland, Buglife, the Marine Conservation Society and Plantlife Scotland.
Butterfly Conservation Scotland stated there were records of 168 different species of butterflies and moths on the site at Coul Links on the Sutherland coast.
This includes 10 nationally-scarce species – and one type which was discovered for the first time in the UK at the Embo site.
Alison Searl of RSPB Scotland said: "Coul Links is a very special place. It is internationally important for wildlife with a particularly rich variety of plants, insects and other invertebrates and birds including many rare species.
"Coul Links is particularly special, because it comprises a complete undisturbed dune complex from the foredunes at the top of the beach through immobilised older dunes and wet dune slack environments to 'heathery' heath developed on ancient windblown sand dunes.
"Similar dune systems previously existed elsewhere, but have been destroyed by development. Many of the plants, birds and animals within Coul Links are dependent on the undisturbed nature of the mosaic of linked dune habitats at the site.
"As well as the presentations by wildlife experts, there will be time for questions and answers."
The presentations will be held in Dornoch at Ross House in Grange Road on Thursday, May 11, at both 4.30pm and 6.30pm.