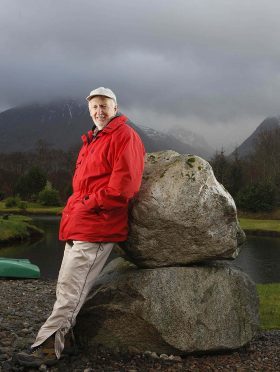 An acclaimed climbing figure, regarded as the "father of Scottish mountain rescue" has been honoured with a medal by the Princess Royal.
Hamish MacInnes OBE was presented with the Chancellor's Medal from the University of the Highlands and Island in recognition of his services, spanning six decades.
The 86-year-old established the Glencoe Mountain Rescue Team in 1961, the Search and Rescue Dogs Association in 1965 and co-founded the Scottish Avalanche Information Service in 1988.
He is also credited with designing a number of mountaineering innovations, including the first all-metal ice axe in the 1940s and the MacInnes folding stretcher in the 1960s.
He has also written numerous mountaineering books and contributed to documentaries and films, including Rob Roy and Highlander, as a climber, stunt double, adviser, narrator and producer.
In addition to his pioneering safety work, Mr MacInnes has made a number of first ascents, including the first winter scaling of Crowberry Ridge Direct and Raven's Gully on Buachaille Etive Mor with Chris Bonington in 1953.
He was nominated for the Chancellor's Medal by West Highland College UHI which delivers the university's adventure tourism management and adventure performance and coaching BA (Hons) degrees.
He travelled from his home in Glencoe to attend the ceremony in Perth earlier this month, collecting the medal from Princess Anne, the chancellor of UHI, in front of 1,300 people at Perth Concert Hall.
Speaking about his award, Mr MacInnes said: "It is indeed an honour to be here today to receive this award and I find it quite humbling.
"To be in the presence of HRH The Princess Royal, a true friend of Scotland, makes it a very special occasion.
"Behind me have been the mountain rescue teams and scientists who have also devoted their lives in making the mountains a safer place and ensuring the injured are evacuated as speedily as possible.
"At the forefront on a global scale, is Richard Glanville of Inverness, a composite expert who, with my help, has designed the new MacInnes mark eight stretcher which will be the lightest and strongest on the planet and will be manufactured in the Scottish Highlands."
Lewis Vernal, vice-principal operations and finance and company secretary at Highland Theological College UHI, was also honoured at the event.
Mr Vernal, who lives in Avoch, was presented with a Vice-Chancellor's Medal in recognition of his 20 years of service to the Dingwall-based college and his contribution to the wider university.
Mr Vernal said: "It is a wonderful, unsought honour to receive this award. I have not only my colleagues at Highland Theological College UHI to thank for their kind nomination, but also the vice-chancellor in making his choice.
"I owe an immense tribute to my talented co-workers throughout the university and its foundation.
"We have striven together over the years to play our part in creating and prospering our unique university, even as we continue to strive today for excellence in the education, support and nurture of our students."