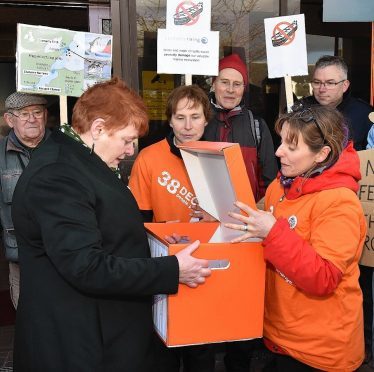 A petition with an unprecedented 100,000-plus signatures was delivered to Highland Council yesterday to highlight the scale of opposition to proposed ship-to-ship oil transfers in the Moray Firth.
Several dozen banner-waving campaigners gathered outside the authority's Inverness headquarters in the latest of a series of protests on the issue.
Council leader Margaret Davidson, who received the petition, declined to say if she backed the campaigners but acknowledged their passion.
"100,000 signatures is a terrific effort by any group," she said. "The council has promised that any debate on this will be in the chamber, involving the full council. My mind will be made up when that concludes."
People from firth communities and beyond have condemned the Port of Cromarty Firth's intention to seek a licence from the Maritime and Coastguard Agency for permission to carry out regular oil transfers in an area the campaigners say would endanger the local environment and tourism.
A council debate on the issue was cancelled pending the port authority's delayed submission of its licence application.
That is now expected to happen after the council elections in May.
A spokeswoman for the port said: "We've refined the licence application in response to clarifications sought during the past 12 months from stakeholders and communities.
"We're acting in the interests of the majority of our stakeholders but understand that some people are against our application.
"They have the right to show their feelings by protesting, as they are doing. It's important our stakeholders understand that we have a legal obligation to protect the environment. To ensure all statutory stakeholders and local communities have time to consider the revised document, we won't submit our refined application until later in the year."
Black Isle SNP councillor and prominent opponent of the licence application Craig Fraser said: "I'm stunned by the level of support for the petition. There is this level of passion because this is simply the wrong place. It would impact on the marine environment on which we all rely around here."
A Holyrood petition from pressure group Cromarty Rising will be discussed by a parliamentary committee next week.