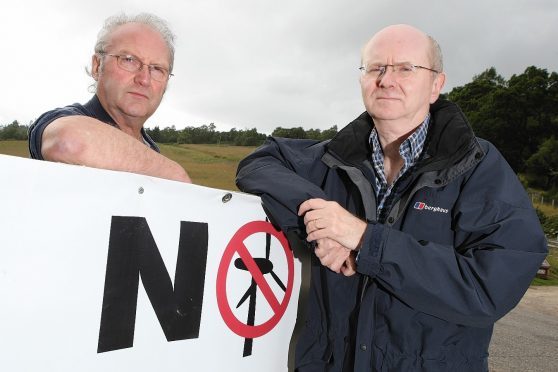 Anti-wind farm campaigners are celebrating the Scottish Government's rejection of a giant new scheme, which was planned for Glenurquhart, near Loch Ness.
The French-led Cnoc an Eas project, comprising 13 turbines up to 448ft tall by Loch Meiklie, close to an historic monument, has been knocked back by a public inquiry.
The glen is home to a Bronze Age chambered cairn that attracts myriad tourists from across the world. It was rejected by Highland Council and now also by inquiry reporter Timothy Brian.
Giving his conclusions, he said: "I do not consider it would represent the right development in the right place, nor do I consider that the proposed development would adequately protect the historic environment or areas of special landscape value."
Leading objector, Cliff Green of pressure group Stop Turbines At Glenurquhart, said: "If this wind farm had been approved, it would have been very close to homes and would have had a disastrous impact on the character of Glen Urquhart."
Jim Treasurer of campaign group Friends of the Great Glen said: "For a company to threaten local people for a second time with a clearly unwanted development is despicable.
"Any future (local) applications should be rejected in perpetuity."
A spokeswoman for EDF Energy Renewables responded: "We are disappointed at the outcome of the appeal as we believe this is an appropriate site for a wind farm."
Local SNP MSP Kate Forbes said she was delighted "local concerns have been recognised."