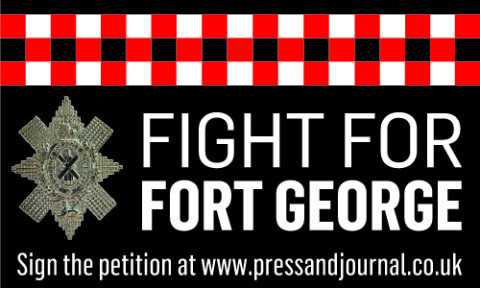 A former Fort George-based Army officer has said that axing the historic barracks would be "very upsetting" and "desperately sad".
Lieutenant Colonel James Murray, chairman of the Queen's Own Highlanders regimental association, warned that closing the base would sever an important link between the military and the local population.
He joined more than 3,400 people in backing the Press and Journal's campaign to save the 250-year-old garrison from becoming a victim of Ministry of Defence (MoD) cutbacks.
Fears have also been raised that the nearby Kinloss Barracks, in Moray, is being considered for closure under the same review.
Fort George was the historic home of the Seaforth Highlanders regiment, which later became the Queen's Own Highlanders, and since 1994 has been The Highlanders (Seaforth, Gordons and Camerons) battalion of the Royal Regiment of Scotland.
For the last decade the barracks have housed the famous Black Watch unit.
Proposals to shut down the Inverness base have triggered fears for the future of The Highlanders regimental museum, which is also sited at Fort George.
Lt Col Murray, who lives on the outskirts of Inverness and served at the barracks in the 1980s, said the regimental association backed the Fight for Fort George campaign.
"I think it would be desperately sad if it closed," he said.
"It is the original home of the Seaforth Highlanders, which became the Queen's Own Highlanders, which has got The Highlanders Museum there – a five-star visitor attraction.
"It would be very upsetting if that was to have to close as well."
He added: "Fort George has also got a great selection of ranges.
"It's the most northerly military base and it just seems desperately sad that the connection between the military and local population could be lost."
Fort George is owned by the MoD and is currently occupied as an Army barracks 365 days a year, although the site is also operated by Historic Environment Scotland on behalf of Scottish ministers as an all year visitor attraction.
The base attracts 55,000 visitors each year, and studies carried out into its economic impact have revealed that its closure could cost £14million and lead to the loss of 112 jobs.
The Highlanders museum recently underwent a £2.9million refurbishment, before being reopened by the Duke of Edinburgh in 2013.
It houses roughly 20,000 artefacts and an estimated 10,000 documents and photographs, making it the largest regimental museum in Scotland outside of Edinburgh.