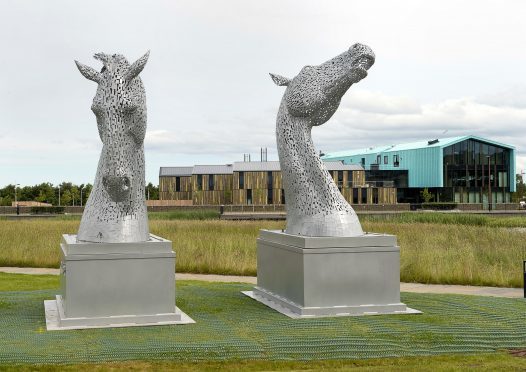 Scale models of the iconic Kelpies will arrive in the centre of Inverness today as the city prepares to host the World Canals Conference.
The maquettes, which are one-tenth of the size of the Falkirk-based sculptures, will grace the Highland capital's Falcon Square until Sunday, September 25.
The visit follows their stay at the other end of the Caledonian Canal at Neptune's Staircase, the longest lock flight in Britain.
The 10ft-tall Kelpies, which have toured the world helping to promote Scotland and the Falkirk area as a visitor destination, have previously appeared at major events including New York's Scotland Week, the Grand National and the Ryder Cup.
The arrival of the maquettes marks the countdown to the start of the 2016 World Canals Conference, which returns to Scotland for the first time in more than a decade.
The four-day event gets under way on September 19 and will involve more than 300 international waterway experts, business leaders and global professionals.
The conference at Eden Court Theatre is expected to inject £300,000 into the local economy.
A festival of free activities will be staged across the city next weekend to coincide with the start of the event.
The "#CanalMagic Festival", organised by Scottish Canals and the Scottish Waterways Trust, gets under way at 10am on Saturday at Muirtown Basin.
It will feature an array of attractions, including climbing walls, walking on water in the aptly-named "waterwalkerz", and the opportunity to try out rowing, skiff and kayak races.
A variety of food stalls will also be on offer, as well as traditional music, and a free canal boat cruise around the basin.
A model boat design and building competition will allow amateur engineers to put their skills to the test as they compete for the top spot.