Thousands of parents across Inverness and Nairn have been sent letters from schools and police warning of an alarming rise in drug use among pupils.
Head teachers from the six secondaries in the area took the unusual step amid concern over a "notable" increase in reports.
They warned that drugs such as cannabis, MDMA, heroin, crack cocaine and so-called legal highs were now "readily available" for "anyone" who wants them.
The letter also states that they believe the risks were "more prevalent" than before and that it involved "a greater proportion of young people and at earlier ages".
Highland Council education chief Bill Alexander said last night that schools in the area were particularly concerned with the rise in access to new psychoactive substances, or "legal highs", which can be bought online.
The letter has been signed by the head teachers of Millburn Academy, Culloden Academy, Charleston Academy, Inverness Royal Academy, Inverness High School and Nairn Academy.
The move follows several high-profile drug deaths among teenagers in Scotland and the UK in recent months, as well as recent court cases involving youngsters from the Highlands.
The head teachers and police said they were sending the letter to "reassure" parents that they were working together to protect their children.
"We have experienced notable recent increases in the volume of information shared regarding possible and actual drug activity in and around Inverness as well as in other communities around Highland," the letter said.
It added: "Although this is not a new issue, the risks do seem to be more prevalent than previously and the evidence suggests increased risk-taking behaviour among a greater proportion of young people and at earlier ages.
"Pupils, parents and carers need to be aware that young people of all ages have been identified as both using and supplying harmful substances in all areas and seem to believe that such activity is 'normal' for them and others.
"Controlled substances previously believed to not have been a significant issue for young people in many areas in Highland are now readily available.
"It is possible for anyone, but especially young people, to access a wide variety of substances across Inverness e.g. controlled substances such as cannabis, MDMA, heroin, crack cocaine and a range of new psycho-active substances ('legal highs')."
The letter also outlines what parents and pupils can do to report concerns, and what actions schools will take if they receive reports of drug taking.
David Brownless, vice chairman of Nairn Academy Parent Council, welcomed the letter last night.
"I would support any move that increases the awareness of pupils at schools and parents of any increase in such problems," he said.
"I don't think it will come as a surprise to a lot of people. I can't imagine Nairn is different from anywhere else in the Highlands.
"Trying to hide these things doesn't help anyone."
Mr Alexander, the council's director of care and learning, said the head teachers were being "pro-active".
"Schools take the safety of all our young people very seriously. The letter is about them being supportive of young people and parents. It's about being pro-active," he said.
"The Highlands are a safe place and people in the Highlands are less likely to use drugs than other parts of the country. But it's important not to be complacent.
"We're aware that access to drugs is increasing in the Highlands and other parts of the country, in particular new psychoactive substances. We know that young people know that and I'm sure parents know this."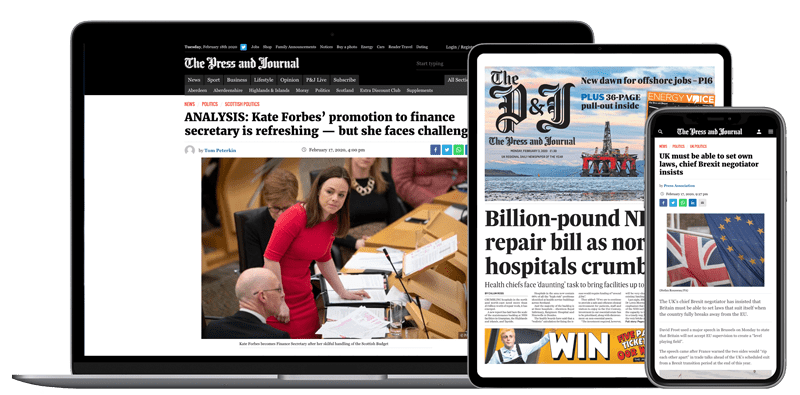 Help support quality local journalism … become a digital subscriber to The Press and Journal
For as little as £5.99 a month you can access all of our content, including Premium articles.
Subscribe