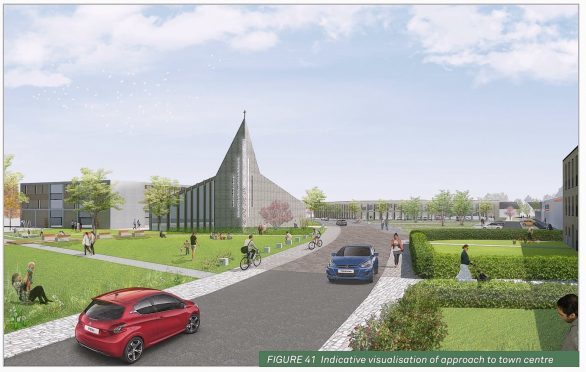 Inverness is on the brink of massive housing expansion that would create hundreds of jobs.
A developer yesterday confirmed plans for a stake in one of the biggest construction projects in the Highlands for years, the Press and Journal can reveal.
Barratt Homes has lodged plans to build the first 400 homes at Stratton, on the eastern edge of the city, and hopes to begin work at the site early in the new year.
It will be the initial stage of the development of a new 1,800-home suburb on the 200-acre site, which borders Smithton and Culloden.
The announcement has been welcomed by local councillors who are keen to address a growing demand for property in what has often been hailed as "Europe's fastest growing city."
As part of local authority policy, it is expected that a quarter of the homes would be guaranteed to be "affordable".
Barratt Scotland regional director Douglas McLeod said: "We're pleased to confirm our involvement in the new neighbourhood.
"Our proposals are for the first phase of development at the site and will provide a range of new homes including apartments and a variety of two-storey homes which will cater for all home buyers.
"The development will also include the delivery of much needed affordable homes."
The wider development is being progressed by Hazledene (Inverness) Ltd and will offer a range of facilities including shops, local services and community facilities and "significant improvement to local infrastructure".
Mr McLeod expects construction work to begin next spring.
The timing of the submission took city councillor Ken Gowans by surprise.
"A lot of things are unresolved in that area, not least of which is the route of the A9/A96 link road," he said.
"You'd imagine that, with development work of any kind, that would be a fundamental thing to take into account."
Local Culloden and Ardersier member Roddy Balfour welcomed news of additional homes in the city but yesterday made an impassioned appeal for more social housing.
"The sale of council homes took so many out of the letting market," he said. "Creating 'affordable homes' doesn't seem to work all that well in some places because it's still private housing.
"What we need is housing for let and, preferably, public housing because many people can't afford to be tenants of organisations whose rents are unregulated."
The landscape between Culloden and the A96 Inverness-Aberdeen road is poised to change radically in the coming decade.
A masterplan has already been approved for the 1,800-home suburb at Stratton, with the vision featuring shops, a health centre, primary school, hotel and park-and-ride facility.
Under plans approved in 2010, Hazledene initially proposed 2,500 homes.
The development was put on hold due to economic conditions, before being revived this year.
Thousands of homes are also being built at the Tornagrain new town on the east of the city, while a new dual carriageway will be built to replace the existing A96 between Inverness and Nairn.
Senior planner Simon Hindson told councillors in June that long-term financial pledges had been secured to accommodate the anticipated additional school pupils created by the Stratton scheme.
He assured members that the council had "re-secured" a site for a new primary school and a significant level of developer contributions towards a three-classroom extension to Smithton Primary.
All other residential development beyond phase one will also be required to contribute to the provision of pre-school, primary and secondary education provision.
Community councillors have pressed for park-and-ride facilities.
Mr Hindson has indicated that the Stratton project provided an opportunity for Inverness's first formal park-and-ride site.