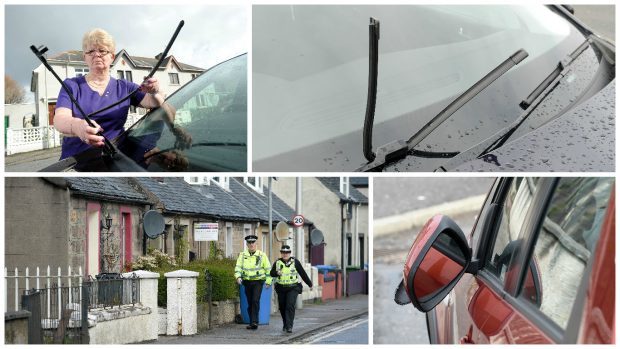 More than 90 cars were damaged in just one night on the streets of Inverness.
Motorists were left counting the cost after wiper blades were torn off or mangled – while some other vehicles had their wing mirrors broken off.
The incidents happened in a handful of neighbouring streets in the Dalneigh and Merkinch areas of the city.
Police confirmed last night that a 42-year-old man has been charged in connection with the alleged vandalism.
The inspector leading the investigation confirmed that officers are continuing to make inquiries and urged anyone with information to make contact with police.
Police yesterday were conducting door to door inquiries in the area.The trail of the damage spread along Telford Road, Telford Street, Telford Gardens, Dochfour Drive and Skinner Court.
Residents woke up to the vandalism spree yesterday morning.
One of the first to spot the damage was Telford Gardens resident Linda Christie, who saw that the wiper blades on her husband's car were bent and broken at about 2.30am.
She said: "I couldn't sleep so I was up and that's when I looked out the window and saw what had happened.
"I called the police about it. I didn't realise then that the whole street had had the same thing.
"It's just been terrible.
"It's a ridiculous thing to have happened."
Several vehicles could be seen sitting on the streets with their windscreen wipers twisted and broken, while others had their wing mirrors broken off.
One family had three of their vehicles parked outside their property damaged – two cars and a van – including one parked on their driveway.
A woman, who asked to remain nameless, said: "I was shocked. My husband saw it when he went outside about 7.45am.
"It's shocking, I don't know why anyone would do that."
Many of the damaged cars had been already been moved yesterday, with some already having been taken for repairs.
Dell McClurg, chairwoman of Merkinch Community Council, said: "It's a sad thing to have happened.
"I just feel sorry for everything that's been a victim and hope they are able to get things sorted out quickly.
"It's crazy to have so many in one night."
Local councillor Bet McAllister said problems with vandalism was a regular concern raised around the area.
She said: "It's absolutely horrendous.
"It's a very disappointing that this has happened and I fell for the residents who have been affected.
"It has been an issue that's been raised several times in Dalneigh. People are very angry about about the amount of vandalism."
Police said they have had reports of "more than 90" vehicles being damaged overnight.
Inverness-based Inspector James Rice confirmed last night that a 42-year-old man had been charged.
A report will be submitted to the procurator fiscal.
Insp Rice said: "Thank you to the members of the public who have assisted with this inquiry so far."
"Inquiries are ongoing with regard to the extent of the damage and I would continue to encourage anyone else with information to please contact police on 101 quoting reference R020577, or Crimestoppers on 0800 555111 if you would prefer to remain anonymous."