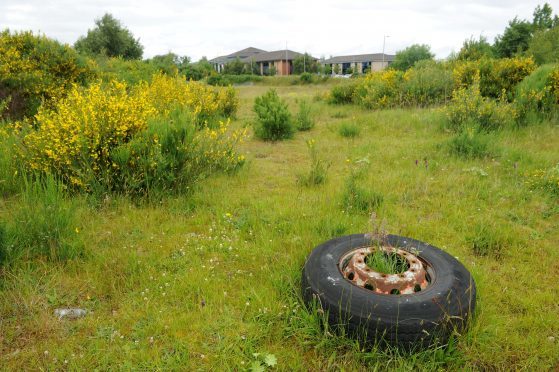 Extensive buried prehistoric remains have been found at the site earmarked for a new £66million prison in Inverness.
A programme of archaeological work is expected to be required before any construction can get under way on the land proposed for HMP Highland.
Highland Council's historic environment team has asked for conditions to be attached to any planning permission granted for the development.
Fears new £66million Inverness jail could clog-up busy junctions
The Scottish Prison Service (SPS) hopes to build the replacement for the city's 115-year-old Porterfield prison at a 18-acre plot behind Homebase, at the south-western end of the Inverness Shopping Park.
However, the Press and Journal revealed earlier this month that the retail park has lodged a formal objection to the application.
Now, the local authority's historic environment team has warned that important remains may be buried at the site, raising the prospect of potential delays to the start of work.
In documents lodged in response to the planning application, Highland Council archaeologist Kirsty Cameron said:  "Initial archaeological evaluation work carried out in advance of the submission of this application has identified that extensive buried prehistoric remains survive here.
"The evaluation was not completed due to extensive vegetation, spoil heaps and other restrictions on the site.
"There is now a requirement to complete the archaeological work by means of a controlled strip (watching brief) across the remainder of the site."
Consultation to be held on new £66million Inverness Prison plan
She recommended attaching a condition to any planning permission stating that "no development or work (including site clearance) shall commence until a programme of work for the evaluation, preservation and recording of any archaeological and historic features" has been submitted.
It adds: "Dependent on the results of this work, further study may be required in advance of, and during, construction works."
If approved, the new complex would house about 200 prisoners from the Highlands, islands and Moray, and the prison service hoped that work would start in December next year and be finished by 2020.
The SPS did not respond to a request for comment, but evidence of late prehistoric settlement at the site was highlighted in its planning application.
After analysis last October, it said: "The proposed development site has further potential for buried archaeological remains to survive.
"An archaeological watching brief is recommended during future ground clearance. This will provide a more complete record of the archaeological landscape."