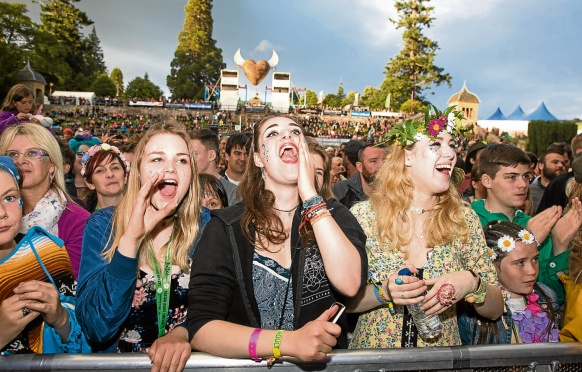 The Highlands is expected to cash in on up to £10million as thousands flocked to the Black Isle Show and Belladrum music festival yesterday.
More than 300 traders and stallholders attended this year's annual farming event and show secretary Rod Mackenzie said it was as busy as previous years.
And as the sunshine eventually broke through in the afternoon at a muddy Belladrum, the first of up to 20,000 revellers arrived on site for a weekend to remember.
Yesterday the Scottish Council for Development and Industry Highlands & Island's Director, Fraser Grieve, said: "As many parts of the Highlands report a bumper tourist summer, these few days with the Black Isle Show and Belladrum are a particular boost to the economy around Inverness.
"We have nothing to be sheepish about when it comes to the welcome impact that these two major events have on the area and the increased business that many who cater for the influx of farmers and festival goers enjoy."
Traffic was heavy for a period yesterday morning as people made their way to both events – and Stagecoach buses reported delays of up to an hour.
But unlike last year, muddy car parks were not an issue this time round as there were only a few showers in the morning.
At the show itself, crowds were entertained by the usual favourites including the livestock parade, the craft and food hall, a funfair and speciality bars and beer tents.
And those gathered around the centre ring were wowed by the Backdraft fire engine which piroutted and showed off its wheelies and blowing flames, followed shortly afterwards by a vintage parade of two dozen tractors.
Families walked up aisles of stalls between heavy agricultural machinery, as whiffs of cooking burgers or candy floss swept through the air.
Yesterday Rod Mackenzie, secretary of Black Isle Farmers' Society, said he was "delighted" with the turnout, adding: "If we calculated sales on the day on its own, this whole thing would probably not happen, but it's the repeat business that comes with it and the fact the tradesman and farmers are here that matters.
"Today shows that we have a very thriving agricultural community in the Highlands and Islands and there is a huge social benefit from this show – people get together and find out what other people are doing.
"Farming is on a slow burner but if food production needed to be pushed for any reason, that's why we have farmers."
Studies have shown that Belladrum is worth £6.6million, the Black Isle Show has a value of millions – and with the Highland Field Sports Fair at Moy on today and tomorrow, the area should enjoy a double figure-million boon.
Highlands and Islands MSP (Conservative) Edward Mountain was also out and about speaking to farmers at the show yesterday.
He said: "It's the biggest show in the Highlands and everyone comes to it.
"Farming is not only a way of life for people – it provides food and it provides a career for many.
"I can not remember farming in such a difficult time as it is at the moment, and these shows give a chance for farmers to come together at such a time."
In the afternoon, revellers of all ages poured into the Belladrum Estate near Beauly.
Nothing but smiles could seen on the faces of all who had made it to the 14th consecutive festival at the site.
This year's festival has attracted bands such as rock group Twin Atlantic, The Pretenders, Franz Ferdinand, Sister Sledge, KT Tunstall and Feeder.