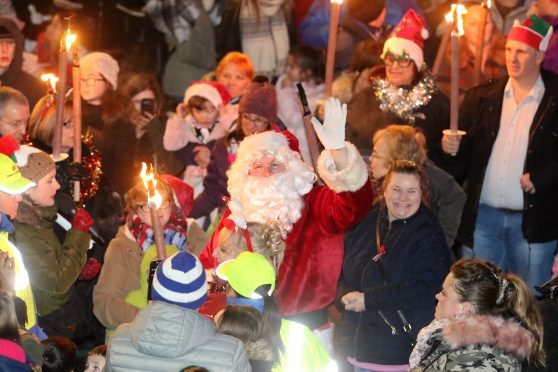 It's more than a month until the Yuletide, but Santa charmed the crowds in Inverness while helping provost Helen Carmichael to switch on the city's Christmas lights yesterday.
The torch-lit procession attracted 3,500 locals and set off from Crown Primary School around 5.45pm.
The combined City of Inverness Senior and Youth Pipe Bands led the march, with the first lights turned on shortly after passing down Stephen's Brae on to the High Street.
Along the way, the children and adults were entertained by the likes of Tigger, Scooby Doo and Minnie Mouse.
Amanda and Tom Gilmour, both of Inverness, said: "We had a really great time. We had food in Bella Italia and then came out to watch the lights being switched on from the balcony above the restaurant."
They were joined by Gabrielle, 13, Gavin, 12, and their friend Luke MacDonald, 11.
Jim and Morag Stewart, also of Inverness, felt much the same way and took their children Hamish, six, Ruaridh, four, and Flora, who was just three weeks old.
Mr Stewart said: "It was really good, we have been coming every year for about three or four years."
Vicky Kemp from Smithton chose to meet the parade at the Town House, but said she found the weather a little cold.
She was joined by Claire Kemp and Leah MacDonald and they took along Daniel McGlone, seven, and Liam McGlone, five.
Sean Pearce, who took part in the whole procession with Jason, nine, and Chloe, four, said: "It is all about the kids. We enjoyed the procession, it was excellent."
The march down the street ended in front of the Inverness Town House and many then headed off to the Old High Church.
They joined a carol service that started at 6.30pm, led by the Rev Peter W Nimmo, minister of Old High St Stephen's Church.
The service was designed to be slightly more informal than normal and was dubbed "Ding Dong Merrily Old High" by organisers.
Councillor Bet McAllister of the Inverness Events and Festivals Working Group said: "Our Christmas Lights Switch On event is undoubtedly one of the highlights of the year for the younger members of our community."
Inverness was not alone in starting the countdown to Christmas with Oban also getting in on the act with its Winter Festival which started on Friday.
Pamela Lockhart, chairwoman, said: "There was a terrific buzz about the town.
"The festival got off to a great start with a beautiful show from Ballet West, and events like gin and whisky tasting were sold out.
"A huge crowd joined the reindeer parade while others lined the street to catch a glimpse of Santa and his reindeer."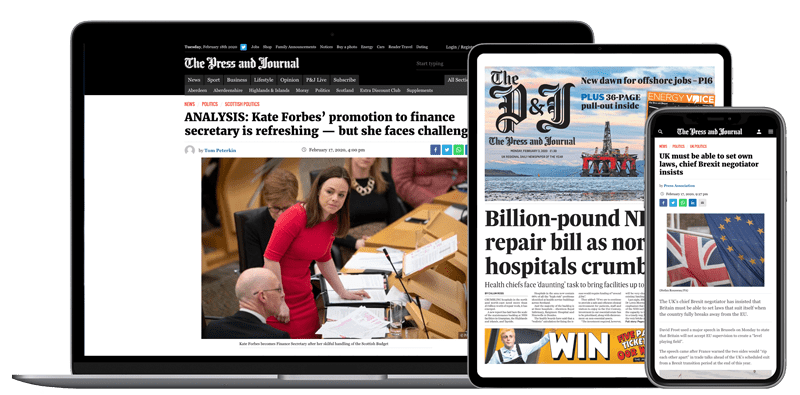 Help support quality local journalism … become a digital subscriber to The Press and Journal
For as little as £5.99 a month you can access all of our content, including Premium articles.
Subscribe