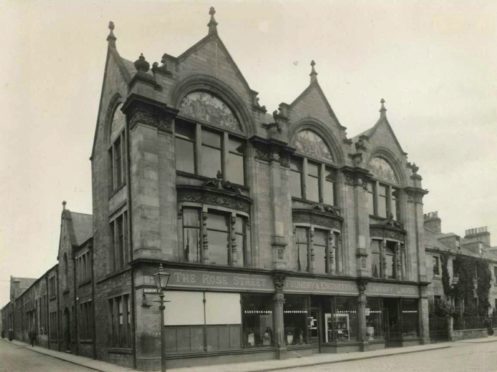 An Inverness landmark has received a near £1 million funding boost to help its transformation into a pub and restaurant redevelopment.
It is 125 years since 96 Academy Street was built, originally the flagship head office of the once-famous Rose Street Foundry and Engineering Company.
It was at the forefront of helping engineer the UK railway industry in the 19th century, but it was during WWII the dedicated workers came to the fore, helping construct pipelines under the English Channel to France as part of Operation Pluto, feeding much-needed fuel to allied troops, particularly during the D-Day Landings of 1944.
In the 1960s the building passed to AI Welders. When the firm moved in 1988 the ground floor operated as several pubs – including Deano's – but he vacant upper floors were left to become derelict.
The Inverness Townscape Heritage Project yesterday announced a grant award of £960,000 towards the costs of the full restoration.
The B-listed property is now owned by Cairngorm Taverns, and they have ambitious plans to turn it into a pub and restaurant, fully restoring its fabric and heritage, including unique decorative mosaics which depict foundry men at work.
Their proposals will bring all floor space back into use and provide a showcase in the city for Cairngorm and Loch Ness Breweries.
The development represents the first major investment by the Townscape Heritage (TH) Project, a partnership regeneration project focusing on Academy Street.
Chairman and Inverness councillor Richard Laird said: "We are delighted that Cairngorm Taverns are committed to the restoration and use of this historic building, and they are to be commended for their commercial vision to undertake this major development.
"This project alone brings over £2m of welcome investment, and will give a big boost to the regeneration of Academy Street."
Councillor Jimmy Gray, chairman of Inverness City Heritage Trust, fondly remembers the history of the building, which has also been the base for a powerful engineering union he was once convener of.
He said: "The AI Welders Building is one of the most important buildings for local residents in Inverness.
"It is a popular heritage landmark for Inverness locals, many of whom have strong connections with it.
"As the current building condition continues to deteriorate, it has been a major development objective for ICHT."