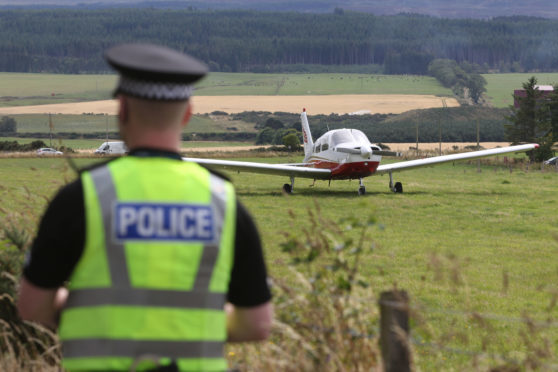 A pilot was praised after being forced into an emergency landing earlier today as the light aircraft he was flying lost power just after take off.
The pilot's skill and experience were called into action as he brought the aircraft to a safe landing around half a mile from the Castle Stuart Golf Course, just west of Inverness Airport.
A police spokesman said: "We received a call at 11.14am to reports of a light aircraft which had conducted an emergency landing in a field near to Inverness Airport.
"Nobody was injured and all persons were accounted for."
A spokesman for Highland Aviation, who operate the aircraft, said: "This is an extraordinary event and the pilot has done a very good job.
"The landing was a mere precautionary landing, similar to pulling over in the hard shoulder as something didn't seem right.
"It was a very difficult call to make by the pilot but he has done exactly what he should have in that situation."
He added: "The safe outcome of this incident demonstrated the safety of light aircrafts.
"Light aircraft pilots are used to landing in fields and on beaches and the pilot has done an excellent job.
"There is no safety issue with our aircrafts. We have now established the issue, our licensed engineer has been able to check and repair the aircraft.
"We will make the aircraft safe and secure until [the] time that we can move it."
Local resident Calum Mitchell said: "I didn't hear anything myself but my neighbours heard what they thought was a chainsaw in the forest and they came round to find a plane in the field."
The pilot was the sole occupant of aircraft.
A spokesman for Highland and Islands Airports added: "A light aircraft operated by Highland Aviation made a forced landing near Castle Stuart golf course after taking off from Inverness Airport.
"Members of the airport fire service attended the scene to support local emergency services. The plane landed safely and the pilot was unhurt.
"The Air Accident Investigation Branch have been informed, there was no disruption to flights at Inverness Airport."