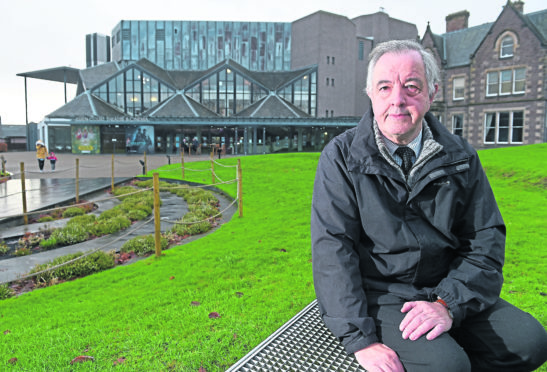 Theatre bosses and staff at Eden Court in Inverness have been targeted by "personally offensive and bullying" behaviour after controversial jobs cuts.
Chief Executive James Mackenzie-Blackman has blasted "inappropriate communications" directed at him and colleagues after job losses of around 10 from a 200-plus workforce sparked fears that youth work was being axed.
He said: "Over the past two weeks there has been growing public concern about staffing changes at Eden Court.
"This concern, in the most part, comes from a place of compassion for Eden Court staff and for an organisation that people know and love.
"There have however been some personally offensive communications online, via email, via text and spoken on the phone that have been inappropriate to myself, my colleagues at Eden Court and our funders.
"Personal and bullying language is inappropriate and will be challenged."
Inverness West councillor Alex Graham, whose constituency includes the theatre, branded the abuse "completely out of order".
---
---
He said: "Eden Court Theatre is trying to manage a very difficult situation where funding has been reduced.
"Staff and management are entitled to be treated with courtesy at all times and there is no excuse for this kind of personally offensive communication."
Mr Mackenzie-Blackman said he felt compelled to clarify the jobs issue in a bid to alleviate concern "as emotion has grown and the facts have become grossly distorted".
He explained how Eden Court recently lost £400,000 a year of funding – split between Highland Council and Creative Scotland.
The reduction accounts for 40% of £1m public sector funding for the theatre, which had an income of £6.5m last year with a surplus of £480,000.
With 200-plus staff, the chief executive said: "It is impossible for this reduction in funding to not have some effect on our business.
"Our biggest budget is our staffing budget. It was clear to me that I had no choice but to ask our board of directors for permission to undertake a staff reorganisation.
"Seven colleagues have left permanent roles at Eden Court and three will leave us, or have left, when their temporary contracts come to an end.
"Of the seven colleagues who have left us four are intended to be re-employed in a freelance capacity to protect our programme for children and young people."
He said there had been a misconception the Creative department and youth theatre had been axed as a result of the cuts, which is not the case.
Mr Mackenzie-Blackman added: "There has been some public dismay at Eden Court's perceived unwillingness to publicly fight these cuts.
"I took the decision on joining the business in February that anger was not the right course of action and instead to enter into dialogue with our funders about why the cuts had been made and how we could work together to mitigate their impact.
"Our current relationship with both our principal funders is strong and it would be unfair to place blame at the door of either of them."