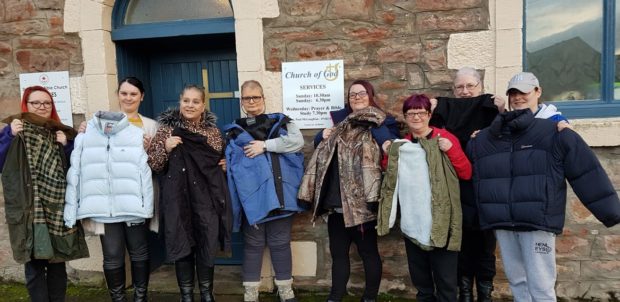 An Inverness based mental health charity has really got into the spirit of giving this Christmas by tying warm jackets to lampposts to help aid those who are homeless.
Serenity is a peer support group for females with borderline personality disorders, with members of the charity parading the streets of Inverness to provide warm items of clothing to those most in need.
Jackets have been left attached to lampposts and poles with a note attached to them stating: "If you require some warmth this winter, please take this jacket. Warmth and love, Serenity."
Vivienne Mackie, co-founder and facilitator at Serenity, said: "The idea came about through our idea of spreading one random act of kindness and seeing how it can change the whole day for that person.
"We wanted to help out the homeless and make sure that we take nothing for granted as it could be any one of us on the streets. We also wanted to highlight that there is somebody out there thinking about them.
"The jackets have been coming in thick and fast and we have already had two Saturdays where we have distributed the jackets and we are also planning two more in the New Year.
"I have also taken three bags full of jackets to Women's Aid as they deal with sufferers of domestic violence, a traumatic event that can lead to mental health issues.
"The generosity from the public to donate jackets has been absolutely fantastic. Even support from people on the streets saying it is a fantastic idea and well done has been great."
Over 100 jackets have already been donated to the charity with more and more people getting in touch to offer help and support to the cause.
Those keen to donate are asked to contact Serenity through their Facebook page to arrange drop off.