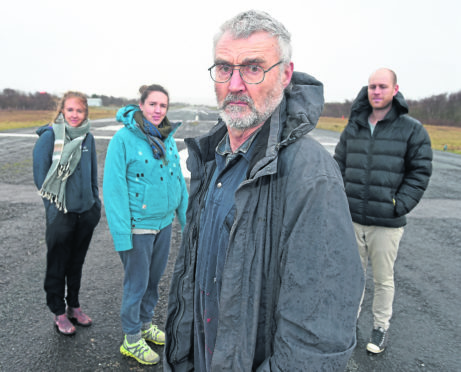 Skye residents have urged agencies to think again over plans to trial the reintroduction of air services to the island's Ashaig Airport.
Skye and Lochalsh Airport Discussion (SALAD) is a group of local residents and businesses who say it's the wrong use of public money when there are many other pressing infrastructure needs on the island.
They say it will encourage central belt residents to buy weekend/holiday homes on the island, amid an already challenging housing shortage.
Skye's visitor numbers have been increasing without an airport, SALAD'S spokesman Tom Stephens said, adding: "The island doesn't need anything that increases visitor numbers until it can cater adequately for those that come already."
The group has mounted written and online petitions, and individuals have written to the chief executive of Highland Council to ask for the trial to be halted.
---
>> Keep up to date with the latest news with The P&J newsletter
---
Skye Air Service short life working group was formed in April last year to look at the establishment of a two-year trial.
Transport partnership HiTrans, Highlands and Islands Enterprise (HIE) and Highland Council are members and the trial was mooted based on a positive business case undertaken by HIE in March 2016.
Mr Stephens, who owns a campsite at Ashaig, said: "The previous air service run by Loganair between 1972 and 1988 was stopped because it was too expensive to continue supporting.
"We have calculated the public subsidy needed would be £124 per passenger per return trip. The short life working group estimates 15,100 passengers per annum, requiring a subsidy of about £930,000 every year."
"They are talking about £1.3 million to make the airport temporarily ready for a trial scheduled service, and annual running costs of supporting the air service and running the airport estimated at up to £980,000.
"They say the  capital cost of a permanent airport will be £4-5million."
SALAD member Mary Strachan said: "The airport is right by the sea and if they expand it after the trail they will lengthen the airstrip over Maol Rhubha, where a follower of Columba landed and set up a colony under pulpit rock.
"It will also block access to Skye's best beach and come close to the cemetery."
Mr Stephens said: "I can see south Skye communities destroyed, becoming weekend and holiday retreats. The public purse shouldn't be subsidising rich people's flights to the island."
Local MP Ian Blackford is a long-time campaigner for a functioning airport on Skye.
He said: "I understand there are some people with concerns but throughout my time campaigning for this I have always felt there is widespread local support."
A spokeswoman for Skye Air Services Project partners, Highland Council, HIE and HiTrans said: "On the aspect of 'subsidy' it has to be acknowledged that there is an expectation that a commercial operation will not be viable, and the subsidy addresses the lack of commercial viability and also the remoteness aspect for Skye and the wider 'fragile area' hinterland.
"Subsidy requirements for air services to remote areas is not unusual.  The options for subsidy are yet to be processed.
"The intention is to now produce a briefing paper which will seek to set out next steps and the budget required to advance the project."
Kate Forbes MSP said: "I think that the Skye and Lochalsh economy should diversify further and air travel could open up new opportunities. I also believe it would take more people off the roads.
"I've been supportive of the air service in the past, and I remain so, but it's important that local communities are part of the discussion."
Background
The aerodrome was built by the Royal Engineers in 1972 to serve as a gateway to Skye, and has a single runway of approximately 850 x 25 yds.
It is maintained and operated by Highland Council.
Loganair ran a scheduled service there between 1972 and 1988.
The airfield is now mainly used by Skye Flying Club and emergency services.
HIE's Skye Air Services Business Case 2016 report says that over 30 years flights could generate £36m to £46m, depending on whether nine-seat or 19-seat aircraft are used.
It estimates that for every £1 spent in investment, there would be £2.21 of benefit to the area.
Annual airport operating costs are estimated to be £480-580k for the fully operational Skye Airport in the model set out by Arup consultants for the project promoters.
The airline operating costs are estimated to require a subsidy of £400k per annum if a Public Service Obligation (PSO) was applied to the route.
If the route was part of the Air Discount Scheme rather than PSO it is estimated that the airline cost would reduce to £210k per annum.
To develop the aerodrome after the trial, including building a permanent terminal building, new apron, 100 space car park and HIAL Rescue and firefighting facilities and various lighting and fencing upgrades would cost up to £5m.