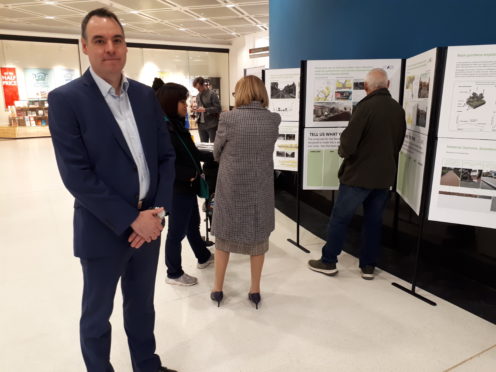 An exhibition in the Eastgate Centre yesterday inviting views on proposals to make Inverness city centre more attractive met with mixed reviews from the public.
The exhibition is the latest consultation on the Accessing Inverness project, a HiTrans, Sustrans and Highland Council project focussing on Academy Street, Falcon Square and Farraline Park.
The plan is to improve walking and cycling links to these areas, which house all three entrances to Inverness railway station.
---
>> Keep up to date with the latest news with The P&J newsletter
---
In the proposals,  pavements in Academy Street are widened, crossing opportunities improved and a traffic restriction of 20mph imposed.  Trees and planters would soften the street's appearance.
Cyclists and pedestrians would be given priority at Farraline Park with only essential traffic allowed into the bus station.
A large crossing area is proposed between Falcon Square and Inglis street, and a roundabout to be introduced at the Crown Road junction, along with a segregated cycle route between the High Street and Millburn Road.
Visitors to the exhibition agreed that 'something needs to be done' about these areas. Many welcomed the improved appearance of Academy Street in particular, but there were some concerns.
One Invernessian who didn't want to be named said: "I don't see how this is going to improve footfall or shopping in the town centre. Academy Street is certainly needing an uplift, there's no doubt about that. We oldies remember the old days when it was really bustling."
Another resident said: "I like the trees and planters along the road, but will there be a problem with leaves on the road? The council will have to maintain them, and that will cost money."
Councillor Bet McAllister said she was getting 'positive sound beats' about the proposals from the general public.
She said: "People are saying it's long overdue, Academy Street has needed something for the last twenty years. They remember the days when we had two garages, the theatre, the foundry, two cinemas. Everybody went up Academy Street, and it would be nice to bring that back."
HiTRANS director Ranald Robertson said: "There are lots of improvements already happening on Academy Street, for example when the Cairngorm Brewery comes in later this year, but it is not a good example of a city centre street.
"It needs a better environment for pedestrians and cyclists, and people who are trying to make use of the shops.
"These plans aren't the final word, we're keen to capture people's view to help shape what this important city centre street can look like."
The consultation period has been extended until Friday February 1, with plans available to see at the Victorian Market, and online at the council website.