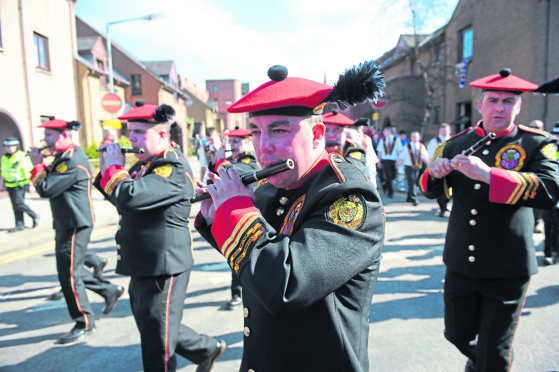 An Apprentice Boys of Derry parade will take place in Inverness this Saturday.
The parade, by Inverness Campsie Club, will see a number of temporary road closures in the city between approximately 3pm and 4.20 pm.
The route takes in Green Drive, Culduthel Road, Castle Street, Bridge Street, Castle Road, Island Bank Road, Haugh Road, Ness Bridge, Young Street, Huntly Street and Wells Street, with various junctions closed on all these streets.
Inverness Campsie Club is one of 39 clubs affiliated to the Apprentice Boys of Derry.
They last held a parade in Inverness in 2017.
The announcement of this year's parade sparked public disapproval.
On social media, people described it as "Scotland's shame", "celebrating bigotry and intolerance" and "poisonous".
Some blamed Highland Council for permitting the marches.
A Highland Council spokeswoman said: "Police Scotland approved the proposed march route through Inverness City Centre and road closures can only take place under the direction of police.
"The council has no legal powers to prevent it and is simply notifying the public of temporary road closures.
"The right to march is a form of freedom of peaceful assembly, which is a protected right under human rights legislation.
"While it is not an absolute right, unless there is a clear need to restrict a march in order, for example, to protect public safety or prevent disorder and crime, the council has no legal basis on which it may refuse permission for the march.
"An organiser of the event should give at least 28 days' notice of their intention to hold a procession or march.  The council does not make any money from such an event.
"If the procession or march is to be held on public roads, it may require an application to the council's Community Services for a temporary traffic restriction order or notice."
A spokesman from Police Scotland said: "The event will be policed appropriately to ensure it is conducted safely and peacefully."
No-one from Apprentice Boys of Derry Scotland was available for comment.